A lot of people who are moving from the UAE wonder whether they should ship their car or just buy a new one when they land. You might want to take your car along if it holds sentimental value, but if you're considering this from a purely financial point of view, then your decision will largely depend on your destination as well as the make and model of your car. Since it can be difficult to figure this out, ServiceMarket, the UAE's leading online marketplace for car shipping and international moving services, joined hands with Seabrook Cargo Services LLC, an international car shipping company, to help you make an informed decision.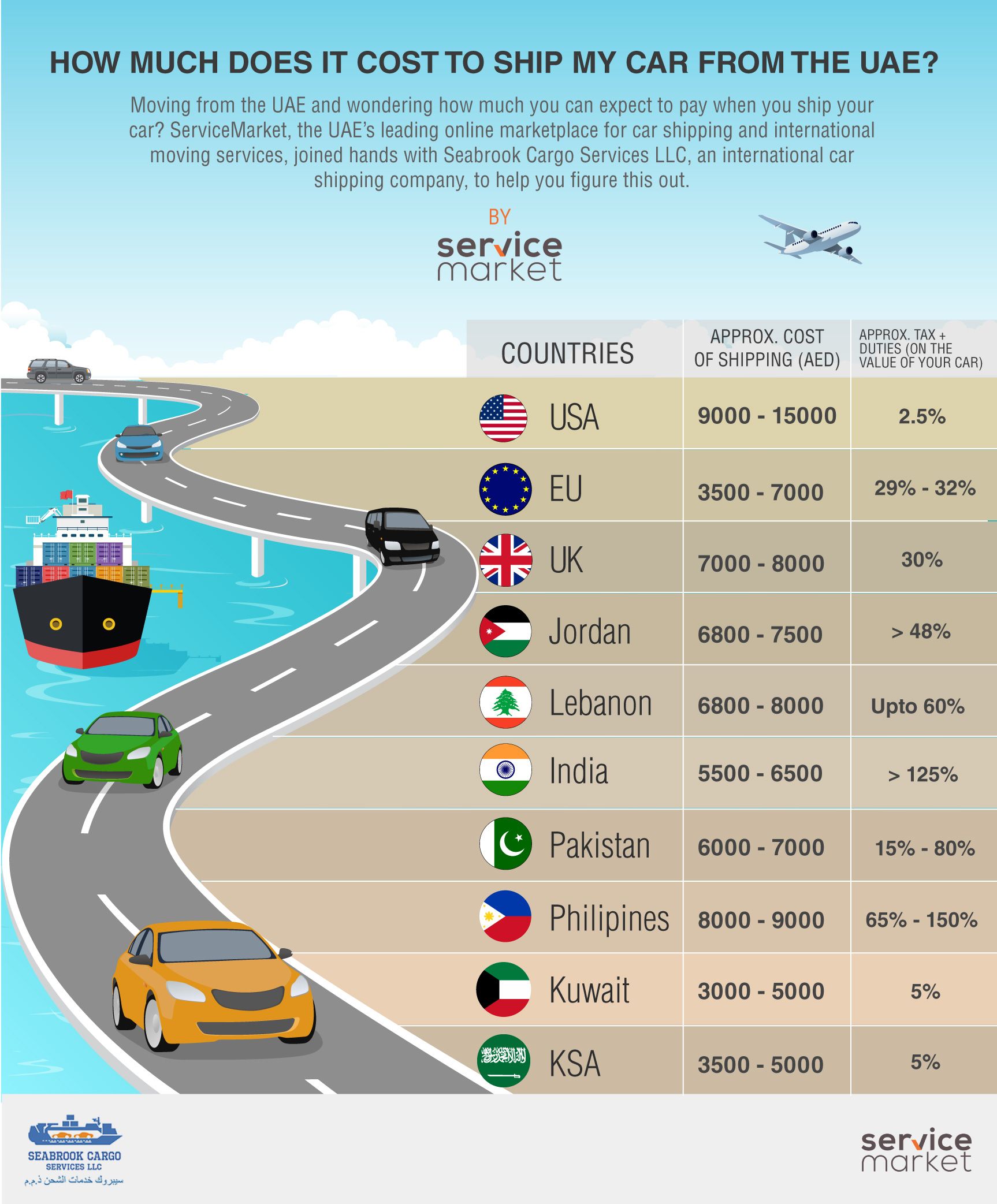 Your car might not be eligible
First of all, find out if your car can be shipped to and registered in the country you are moving to. According to Cristina Tomescu, Spokesperson of Seabrook Cargo Services LLC, Dubai branch, some countries have regulations that don't allow the import of certain types of cars. For example, left hand cars cannot be exported to India. As you might have guessed, you won't have to face any problems while shipping a car with GCC specifications to any of the GCC countries, including Saudi Arabia and Kuwait. However, shipping cars with GCC specifications to European countries can be complicated because your car would have to go through a process to determine if it complies with the rules and regulations of that country. Your registration approval also depends on other factors such as the acceptable exhaust emission levels in Europe. Many car shipping companies specialize in getting European car registration approval for GCC specification cars.
Don't ship if you plan to sell your car soon
If you have become a resident of another country and plan to ship your car as a relocation good, then in some regions like Europe you won't be able to sell it for 12 months after it arrives. In other cases, for example if you get a certificate of exemption when relocating to Europe, you might not be able to sell the car to anyone else.
Shipping to some countries can break your bank
It's better to just buy a new car in countries where the import taxes and duties are very high. Depending on what type of car you are shipping, you might have to face hefty expenses in Pakistan, India and Philippines. But tax rates are very low in some countries like the US, Kuwait and Saudi Arabia. What's more, many people don't know that no taxes and duties will be applied if they are relocating to Europe. To help you figure out how much you can expect to pay when you're shipping your car to one of the following countries, ServiceMarket and Seabrook Cargo Services LLC have put together this table that includes the cost of shipping as well as the taxes and duties that will be applied on the value of your car:
Table 1: Approximate cost of shipping a car from the UAE
Country
Approximate shipping cost
Approximate taxes and duties (applied on the value of your car)

USA

AED 9,000 – 15,000

2.5%

EU

AED 3,500 – 11,000

29% – 32%

UK

AED 7,000 – 8,000

30%

Jordan

AED 6,800 – 7,500

>48%

Lebanon

AED 6,800 – 8,000

Up to 60%

India

AED 5,500 – 6,500

> 125%

Pakistan

AED 6,000 – 7,000

15% – 80%

Philippines

AED 8,000 – 9,000

65% -150%

Kuwait

AED 3,000 – 5,000

5%

Saudi Arabia

AED 3,500 – 5,000

5%
Shipping is ideal for temporary stays
According to Cristina Tomescu, Spokesperson of Seabrook Cargo Services LLC, Dubai branch, many people who plan to stay in another country for less than a year don't realize that they can avoid import taxes and duties on car shipping. You can export your vehicle with a Carnet De Passage, which means that you are taking your vehicle along on a temporary basis and will return it to the UAE within 12 months. There are more than 75 countries around the world where you can leverage a Carnet De Passage to avoid paying VAT (value added tax) and duties. You can request a Carnet De Passage from the the Automobile and Touring Club in Dubai.
Compare whether it's better to ship or buy a car upon arrival
If your car costs more in the country you're moving to, then it makes more sense to ship it. You can find out the current value of your car on platforms like CarSwitch.com. You should also consider the amount you will have to pay to the car shipping company. Generally, the cost of shipping will be lower if the destination is nearby and linked by land. On the other hand, higher costs will be charged for shipping to destinations that are far and across the sea. Be sure to get in touch with your shipping company to find out more about the other costs associated with shipping to your destination such as border charges, taxes, duties, and customs clearance. In addition, since the process of finding and buying a new car can be long and complicated, you can make your life easier by shipping your car.
The verdict
There is no harm in shipping and in many cases it can even help you save money. You might also prefer shipping if you have a vintage car or won't be be able to find the same make and model where you're going. But more often than not, you'd be better off selling your car instead of shipping it.
If you're looking for an accredited car shipping company, then be sure to get a quote from Seabrook Cargo Services LLC. After all, you would only want to put your valuable car in the hands of a reputable and trustworthy shipping company.