Custom curtains & blinds services in Dubai
Curtains & Blinds tips from The Home Project
5 Ways to Use Curtains and Blinds in Dubai to Keep the Heat Out
Keeping cool when it's summertime in the UAE is surely not easy. When it's blistering hot outside, you'd want nothing more than to just head inside where its cool. But with high temperatures come...
read more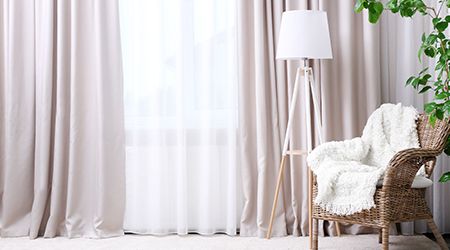 How to Use Curtains to Transform Your Dubai Home This Winter
The right window curtains and blinds can not only make your Dubai home look good but also help you control the temperature of the house. Hence, with winter here, it is a good idea to update the curtain...
read more
How can ServiceMarket help me find companies for blinds and curtains in Dubai?
ServiceMarket makes it easy to buy or install curtains, drapes or any type of blinds when you live in Dubai. We have numerous Dubai based providers specialised in all types of curtains and blinds. From traditional lace or silk curtains, to roller blinds or venetian blinds, to classic drapes or roman blinds, our providers offer it all. ServiceMarket matches you with the best curtains and blinds companies in dubai for buying and installing your curtains. In a few simple steps, you can schedule a free consultation on our website or browse through the many different companies to see the services they offer. If you are looking for someone to just install your curtains or blinds, it's easy you can book it right here.
How do I request quotes for made-to-measure curtains and blinds in Dubai?
Just hit the big orange 'GET STARTED' button after specifying whether you need 'Curtains', 'Blinds' or 'Shutters'. This will take you to a form where you will have to provide a few important details such as the number of window treatments needed and the kind of home you live in. If you already have an idea of what type of window treatment you'd like for your home, there is a box in the form where you can provide us those details. Based on the information you provide, we will match you to the best Dubai curtains and blinds companies and help you schedule free visits from them to get custom quotes. Be sure to submit your request as soon as possible in order to get your home looking beautiful right away as made-to-measure window curtains take time to prepare. For installation of any curtains, blinds or shutters, you can book a qualified handyman here.
What are the benefits of using ServiceMarket to get quotes for custom blinds or curtains in Dubai?
We get you in touch with the best! At ServiceMarket, we only partner with licensed and reputable companies.
You get multiple free quotes! You'll get up to 4 free quotes from reputable curtains and blinds companies in dubai for your made-to-order curtains and blinds request. You can easily compare the rates and make your choice.
You get access to customer ratings and reviews! You can read real and up-to-date customer reviews for all our partner companies. This will give you a better sense of the service quality each company provides. All our reviews are verified so you can be sure they are trustworthy.
You are guaranteed the best price! Since the companies know that they are competing with at least 3 other companies, they do their best to quote you the best possible price. Booking through ServiceMarket also gains you access to any exclusive offers the companies have in place for our customers.
What do customers say about ServiceMarket?
ServiceMarket has been rated 4.3 out of 5 based on 457 reviews as of October 2018. - Read all customer reviews.
* All price ranges are only estimates based on quotes collected through ServiceMarket. These prices include the cost of lawn planting or maintenance. Additional charge may apply for additional services such as pest control, specialised fertilisers, et cetera. Excludes VAT