Painting services in Abu Dhabi
Recommended painting companies in Abu Dhabi
Painting tips from The Home Project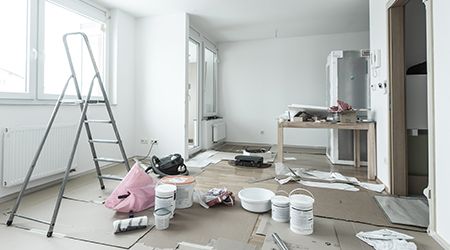 Home Renovation Basics for Dubai Residents  
With summer here, a little renovation to make your Dubai home feel spacier and cooler seems like a brilliant idea. Large home renovations that include hiring painting services in Dubai, however, need a...
read more
4 Color Themes for Your Kitchen
Cooking up a new feel for your kitchen might just be the thing you need to do to brighten up your house. And yes, an all-white look isn't the only way to go. While it does make your kitchen look clea...
read more
How much will it cost to paint my home in Abu Dhabi?
How do I find painting companies in Abu Dhabi with ServiceMarket?
Living in a desert, the colors of walls tend to change really fast from the extreme sunlight exposure. In order to get that long overdue wall painting job finally done, ServiceMarket has connected with a wide selection of reputable painters and painting companies in Abu Dhabi in order to deliver the best interior and exterior painting, apartment painting, and villa painting services to our clients. ServiceMarket is your little helper that matches you with the best painting companies in Abu Dhabi. Finding and calling companies, getting quotes and scheduling time is stressful and wastes valuable time. This is the reason ServiceMarket was created. On ServiceMarket you can browse through a large variety of the best painting service companies in Abu Dhabi and request quotes from them directly. There is no need to worry about company qualifications as we ensure that all our providers are licensed and qualified.
How do I request quotes for painting services in Abu Dhabi?
It could not be easier! Follow our quick three step process and you will have Abu Dhabi painters calling you in no time! First, specify what type of painting service you need, such as house painting or office painting, and hit the "Get started" button. Then you just need to tell us when you need require the painting service and any other special requirements you may have. Finally, you can either let us choose the painting companies for you or you can select the companies you wish to receive your free quotes from yourself. When selecting companies, you can filter based on their rating, customer reviews, price, and types of painting services offered. Once you've submitted your request, you'll receive your quotes within the day! It's that simple!
What are the benefits of using ServiceMarket to get quotes for painting services in Abu Dhabi?
You will be contacted by qualified professional painters in Abu Dhabi: ServiceMarket ensures that you will be contacted by licensed painting companies in Abu Dhabi, UAE that have years of experience in house painting, exterior painting, and office painting.
You can select up to 3 Abu Dhabi painting companies to contact you: After filling out our online form and specifying what painting service you need, you will be contacted by the painting companies within the same day. The more specific you are, the more tailored your service will be. If you are looking to paint your garden, your office, your walls, your villa, or paint your Abu Dhabi apartment then indicate your request as such and you'll be contacted within a few hours.
You have the ability to filter through the different companies with customer reviews: ServiceMarket provides real up-to-date customer reviews that are there to help our customers in figuring out which painting companies will suit their needs. You will find reviews written by past customers about the service they received for their villa painting or their apartment painting, or even their decorative wall painting in Abu Dhabi.
You will get competitive pricing from our providers: The painters are competing for your business with other companies you have selected, so they put their best price forward. You may even get special painting deals as an exclusive ServiceMarket customer, such as move-in and move-out painting services.
You get the service for FREE!: We don't take any commission from the companies, so you don't have to worry about price increase on your quotes. Our service is for you, free of charge.
What do customers say about ServiceMarket?
ServiceMarket has been rated 4.3 out of 5 based on 457 reviews as of October 2018. - Read all customer reviews.
* All price ranges are only estimates based on quotes collected through ServiceMarket.These charges are only for painting services. Additional charges may apply for services such as post-paint cleaning, et cetera. Excludes VAT