If you are about to hire a handyman in Abu Dhabi to remodel your home, you might find yourself confused between engineered hardwood flooring and solid hardwood flooring. This guide on the pros and cons of both by the experts at ServiceMarket should help.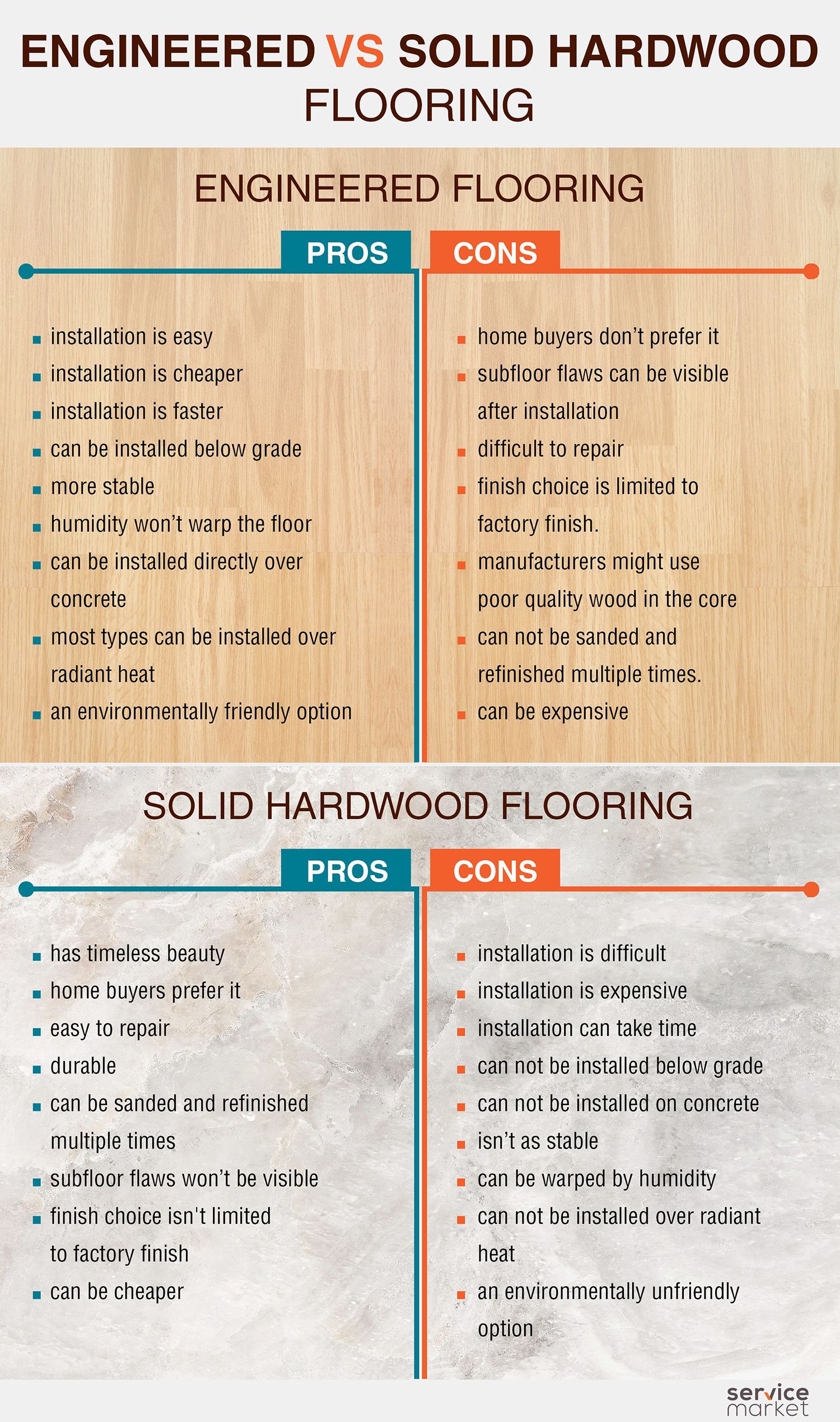 Engineered
This is a type of flooring where the planks are made by bonding together multiple layers of wood using high heat, pressure and adhesives. The veneer can be a solid hardwood of your choice, while the core layers are usually plywood or high density fiberboard.
Pros
Engineered flooring is relatively easy to install. A lot of people prefer to DIY it. However, it is always smarter to hire an expert

handyman in Abu Dhabi

or to look for a reputable carpenter to install your floor for you.

Installation is cheaper and usually takes only a day since no sanding or finishing is required after installation. The planks are simply nailed or glued into place.

Engineered floors can be installed below grade. For example, if moisture is not an issue in your basement, feel free to install your new floor there.

Engineered flooring is more stable due to its multiple layers. Therefore, you can purchase wider planks.

This type of flooring was designed to reduce moisture problems associated with solid hardwood flooring. The planks won't warp due to changes in the humidity levels of the environment.




The floor can be directly installed over concrete without the hassle of having to install a plywood subfloor.  

Some engineered floor types can also be installed over radiant heat to keep your feet cozy during the winter.

Engineered hardwood flooring is more environmentally friendly. It uses less wood from slow growing trees and there is no saw dust generated from making the layers since the wood is sliced.
Cons
Home buyers prefer the real thing. Homes with engineered flooring have a lower resale value as compared to homes with conventional hardwood floors. This is especially true if the floor wasn't installed properly.

Since there is no sanding done after installation, subfloor flaws can be visible after an engineered floor is installed.

It isn't easy to repair a damaged engineered floor.

Your choice is limited to factory finish. You can't pick your own finish or the number of coat applications.

Some manufacturers cut corners by using poor quality wood in the core of the floor. This can compromise the stability of the floor

Since the top most layer of hardwood isn't as thick, engineered floors can not be sanded and refinished multiple times. Some are so thin or poorly made that they significantly reduce the life of the floor.

To increase the durability of an engineered hardwood floor you need to increase the number of core layers and the thickness of the solid hardwood veneer. This leads to higher costs.
Solid hardwood
In this type of flooring, ¾ inch thick planks of solid wood made from a single piece of wood are used. There are dozens of varieties of trees to choose the wood from and each has its own color, price and durability.
Pros
Timeless beauty. Many people prefer knowing that they have the real thing installed in their homes.

Home buyers prefer conventional hardwood floors and therefore, the resale value of the home will be higher.

Solid hardwood floors are really easy to repair. Most damage can be repaired by sanding and finishing. Even if a section has to be removed due to damage, it is easy to find wood that matches the rest of the floor.

The floor is quite durable. Durability of your floor will depend on the type of wood used. Bamboo, as an example, is one of the most durable solid hardwood floors available in the market.

The planks are 3/4th of an inch thick making it capable of standing multiple finishes to remove any signs of wear.

The buyer gets to choose the finish and the number of coats of application.

Subfloor flaws won't be visible after installation and sanding.

It can be cheaper than purchasing engineered wood. This depends, however, on the type of wood that will be used to make the floor. A soft wood such as pine, for example, is more affordable than an exotic wood such as mahogany.
Cons
The installation, sanding and finishing of a solid hardwood floor isn't easy and can take up days. Remember to hire a professional

Abu Dhabi maintenance company

to handle your flooring needs for you.

It is more expensive to install a conventional hardwood floor. Sanding and finishing costs also drive up the overall expense of purchasing the product.

Solid hardwood floors should not be installed below grade since the wood is greatly affected by changes in humidity.

The flooring cannot be installed on concrete. A plywood subfloor will be required which will increase cost and the height of the floor. The access height might lead to problems with opening and closing doors and cabinets.

Since the wood expands and contracts depending on the moisture content, it isn't as stable and is only available in panels that are 4 to 5 inches wide.

An expert is required for installation so that he leaves enough space for expansion and contraction. Otherwise, the floor might buckle in the summer and become loose in the winter.

The floor can not be installed over radiant heat.

A slow growing, usually exotic tree, is used for a hardwood floor making it an environmentally unfriendly option.
If you are looking for experts to install the flooring of your choice or to refinish your beautiful floors for you, head on to ServiceMarket to get free quotes from maintenance companies in Abu Dhabi.