Our most popular services in Dubai
Recommended office cleaning companies in Dubai
Office cleaning tips from The Home Project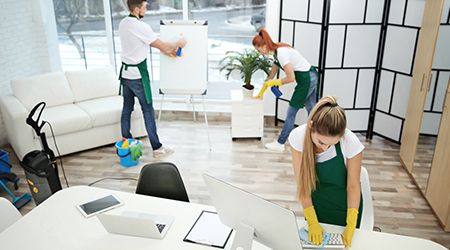 5 Tips to Choose the Best Cleaning Company for Your Office in Dubai
When your office needs a little tidying up, it's time to call in professional cleaners in Dubai. The team at ServiceMarket are well versed in the matters of cleanliness and competence, which makes th...
read more
How do I find office cleaning services in Dubai with ServiceMarket?
Finding the right professional cleaning service for your office in Dubai can be a cumbersome task since there are budgets to consider and so many companies to choose from. It's also important to find an office cleaning company that is reliable and trustworthy. We understand all the decisions that go into hiring an office cleaning company in Dubai, so ensure we get you all the information you may need! ServiceMarket has partnered with the best office cleaning companies in Dubai so we can get you a wide selection of quotes and options. Whether you require professional cleaning services for your office or full building cleaning services, we can help! With ServiceMarket, you can compare different contract plans, read real customer reviews and get quotes from multiple companies absolutely for free! We'll help you easily collect all the information you need on all office cleaning services in Dubai to be able to make the right choice for your business.
How do I request quotes for office cleaning in Dubai?
It's super simple and it's free! First, you just need to fill out our very short online form telling us how large your office is, and additional details such as how frequent you require cleaning services in your office plus any other details you would like to share with our partners. Once you've filled out the form, you can either select up to 3 office cleaning companies in Dubai from our list of partners to get quotes only from them or you can let us choose for you. We'll send your request to our partners, and just within hours you'll get quotes for commercial cleaning services or building cleaning services. It's that easy!
What are the benefits of using ServiceMarket to get quotes from office cleaning companies in Dubai?
You will get in touch with the best office cleaning companies in Dubai: We partner with the best commercial and building cleaning companies in Dubai, and form strong relationships with them, so you can always count on getting professional services at the best rates. We provide all the information you will need such as qualifications of the building cleaning company on our site so you get a sense of the quality the company provides.
You will get up to 3 quotes from building cleaning companies in Dubai: Once you have filled out the form, you will receive quotes with a few hours and you can talk to each of the companies till you find the right fit.
You can select the office cleaning services based on your business needs: We provide you with the option to filter down the companies based on price, customer reviews, company ratings and services offered. For example, you might want to narrow down based on whether you need female or male cleaners for your workplace.
You will get the best rates for commercial cleaning services: Our commercial cleaning partners are competing for your business, so they will give the best possible rates available. It is completely up to you to decide which provider you hire for your office.
You get the quotes for FREE: We do not charge our customers on getting quotes from our site nor do we collect commission from the building cleaning companies, so you don't have to worry about the price being affected.
What do customers say about ServiceMarket?
ServiceMarket has been rated 4.3 out of 5 based on 491 reviews as of November 2018. - Read all customer reviews.
* All price ranges are only estimates based on quotes collected through ServiceMarket. These prices are only for standard office cleaning services. Additional charges may apply for specially requested cleaning equipment or additional services. Excludes VAT