Pest control services in Dubai
Pest control tips from The Home Project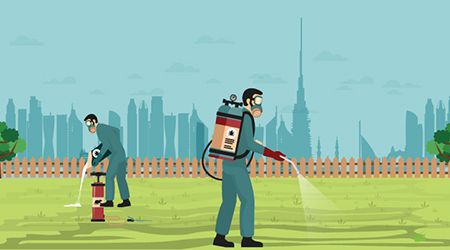 Revealed: Pest Control Trends in Dubai
ServiceMarket, the UAE's leading online marketplace for pest control services, recently conducted a study of Dubai pest control requests. ServiceMarket allows customers to get quotes from pest contro...
read more
How to Ensure that Your Dubai Family is Safe During a Pest Control Session
If you've discovered that you've wound up with some really annoying freeloaders and are shortlisting the best pest control services in Dubai to get rid of those unwanted "guests", you're prob...
read more
How much do pest control services in Dubai cost?
How do I find pest control companies in Dubai with ServiceMarket?
Dubai has seen a rise in pest control problems, especially bed bugs, termites, ants, cockroaches, and even rats! To protect you and your family from pests, ServiceMarket has expanded its home services section to include a wide selection of professional, qualified, and licensed pest control companies in Dubai in order to provide you with the best hassle-free and safe pest control services. ServiceMarket is a one stop site for getting the best and most competitive quotes from pest control companies in Dubai. We can help you get in touch with a Dubai municipality approved pest control company that specifically offers specialized services for ant control, cockroach control, termite control, bed bugs control, or rat control so that you don't waste time trying to find a company that fits your needs. We'll help you find pest control in Dubai quickly to so your home can be safe from pests right away. With ServiceMarket you're given all the information you can possibly need in one place in order to make an informed decision about pest control. You should even check out our blog posts that will alert you about harmful pesticides, what specifically to look for to understand pest control certifications, and much more.
How do I request quotes for pest control services in Dubai?
It's a no hassle, three step process! Once you are on ServiceMarket, your next step is to fill out our simple pest control request form which can be found above. In the form you need to provide details of the pest control service you require for your home, office, or building, and then you can select which pest control companies you would like to receive quotes from. The more detailed your Dubai pest control request is, the better the match between you and the companies will be. Be sure to submit your pest control service request a week in advance through the ServiceMarket portal to understand what precautions you need to take and to ensure that the Dubai pest control company you have chosen is available on your desired date.
What are the benefits of using ServiceMarket to get quotes for pest control in Dubai?
You will be contacted by the best pest control companies in Dubai, UAE: You do not have to worry about the qualifications or experience level of the pest control providers. We make sure that all our partners have the necessary qualifications and experience to come to your home, as well as if they are listed under the Dubai municipality's list of approved pest control companies. We'll even arm you with all the facts you need to know how to find out about municipality approvals and pest control products used by these companies.
You will be contacted by up to 3 Dubai pest control companies: After filling out our simple form, you will be contacted by three professional pest control companies in Dubai. You do not have to call up company after company, they will contact you directly. We form strong relationships with our partners, so you can always count on getting access to the best and most reliable pest control service companies in the UAE.
You have the ability to filter companies based on your preferences: With ServiceMarket you have the ability to filter companies based on star rating, customer reviews, price, and even type of pest problem, such as bed bugs or cockroaches. Then all you need to do is select the company that fits your needs. You should ask if the companies offer gel substances, spray pest control, or fumigation services.
You will get competitive rates from our providers: Our partner companies are competing for your business so they put their absolutely best price forward.
You get the service completely for FREE: ServiceMarket does not charge customers for obtaining pest control quotes through the portal, the service we provide to you is absolutely free!
What do customers say about ServiceMarket?
ServiceMarket has been rated 4.3 out of 5 based on 457 reviews as of October 2018. - Read all customer reviews.
* All price ranges are only estimates based on quotes collected through ServiceMarket. These prices include the cost of one treatment only. Additional charges may apply for follow-up treatments, et cetera. Excludes VAT