If you live in a city like Dubai, you'll notice ever-evolving fashion trends around you. These trends also include nail art, which is quite popular these days. To keep up with these trends, you can look for a women's salon at home since visiting the salon can be challenging for some people. Such services are important for enhancing comfort and convenience.
Some new nail trends are simply variations of already existing nail art like French manicures and nail jewelry. In addition to this, you'll also find colorful designs, quirky patterns, and dynamic shapes. If you want to try any of these trends, book nail services at home in Dubai. Here are the top trends that you need to know about.
Top 5 New Nail Trends in Dubai
Today, it's common to see a wide variety of nail art. This includes stickers, distinct shapes, colorful patterns, and even minimalistic designs. Check out some of the most popular designs this year.
1: The French Line
The French Line is one of the most popular forms of nail art today. In fact, a large number of influencers are seen with this type of manicure. As a result of online popularity, several people have started following this trend. The French Line is a variation of the French manicure. While the latter typically involves white nail paint, this trend uses darker colors like black or blue. Moreover, it also goes against the thicker line design. The current type of nail art focuses more on a thinner painted line that covers just the tip of your nail. This look is simple and looks both sophisticated and playful. It also works for professional settings.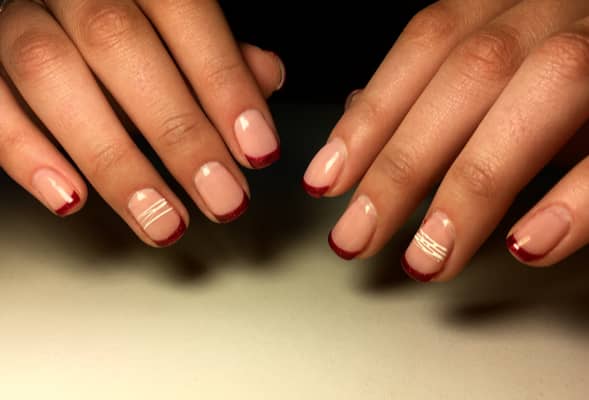 2: Minimalist Patterns
Minimalism is all the rage in the current world. You can find this type of design and art form in several patterns and settings. For instance, minimalistic clothing lines are also gaining momentum with this generation. Furthermore, even office or home spaces are following designs that keep in line with this concept. In the context of nail art, this is growing in importance.
Although minimalist nail art patterns can look unusual and strange, you can see them everywhere. Some people simply have a black or white dot on each nail. Others practice minimalist patterns by drawing a single line on their nails with a single color. Although these are simple to do at home, it's always a good idea to get them done by nail experts. They have years of training and experience.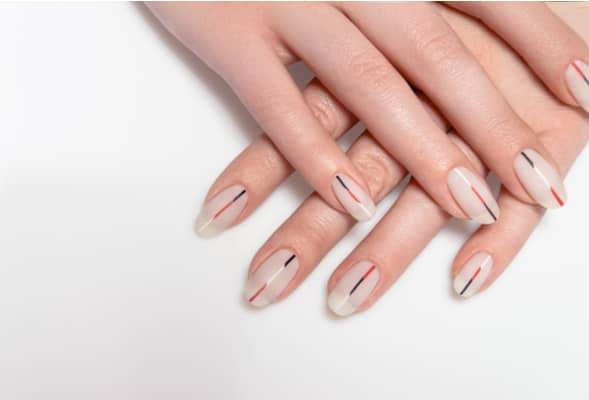 3: Nail Jewels
With nail jewels or jewelry, people are able to communicate their style and interests. This type of nail art typically involves a lot of time and effort. If you're going to a nail salon for this type of nail art, you may need several hours. In addition to this, most jewels require glue or some form of substance that allows your nails to sustain all the bling you want. In addition to time, this form of design may also cost you more. This is because jewelry isn't cheap. Even if it's not real, gluing jewels will cost you significant money. It's always a good idea to choose high-quality stones so your design doesn't look tacky. Many ladies are choosing chunky jewelry or statement pieces for that wow factor!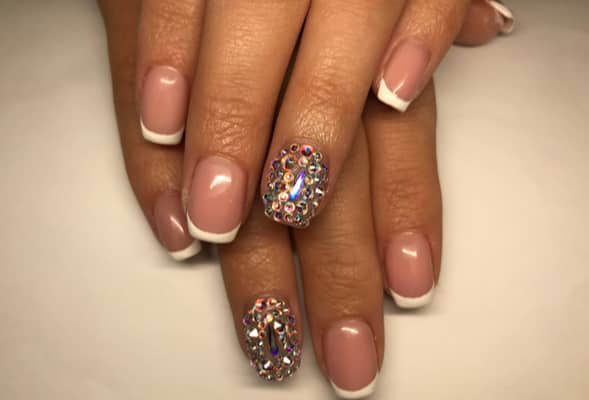 4: Abstract Design
Abstract nail art has been popular for several years. This is because it's attractive and visually appealing. However, it can also get confusing with its wide range of colors and patterns. But that's the whole point. Abstract art is known for creating confusion and so, is a great conversation starter as different people can have different explanations about the same thing!
With abstract nail art, people can play around with all kinds of colors and tones. Although you can choose muted shades and pastel colors, most such designs involve a bright palette. This includes neons, reds, and blues.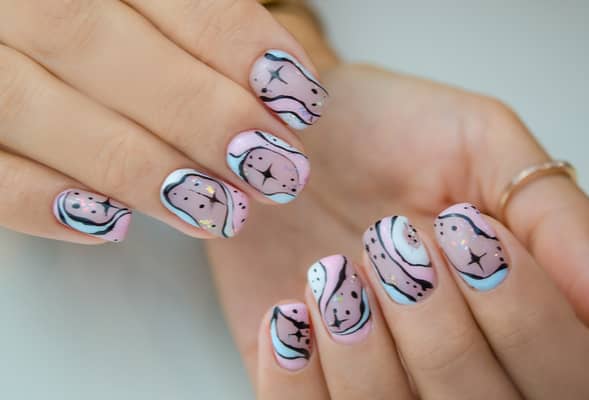 5: 3D Nail Art
Today, technology has made progress and development faster and easier. This means that it's now easy to carry out tasks that were once considered hard. With 3D nail art, the patterns and designs on your nails look hyper-realistic. In addition, this new nail trend also enhances the quality of design. 3D nail art uses special tools that make it easier to create patterns that look real. Thus, it will look like they're popping out of your fingernails.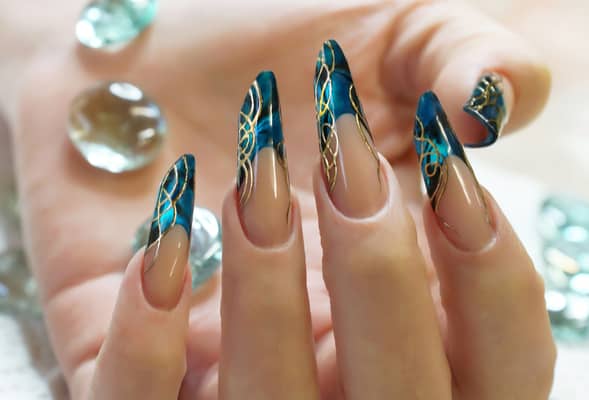 Summing Up
If you are interested in new nail trends, consider getting designs that involve 3D art, abstract patterns, and nail jewelry. You can even try out The French Line or minimalistic art. In order to get nail services at home in Dubai, book an at-home appointment. ServiceMarket can help you connect with salons that can send professional beauty technicians to your home!