If you're looking for the most popular area in Dubai, then look no further than this list. Here at ServiceMarket, we have helped thousands of Dubai residents find professional and vetted movers to move them to a new home. We've crunched the numbers, and found the most popular areas that Dubai residents are moving to. Based on over 2000 moving requests in 2016, we discovered that 61% of all moving-in activity takes place in just 10 major areas in Dubai.
Check out our infographic that shows the areas of Dubai that have had the highest levels of move-ins so far in 2016.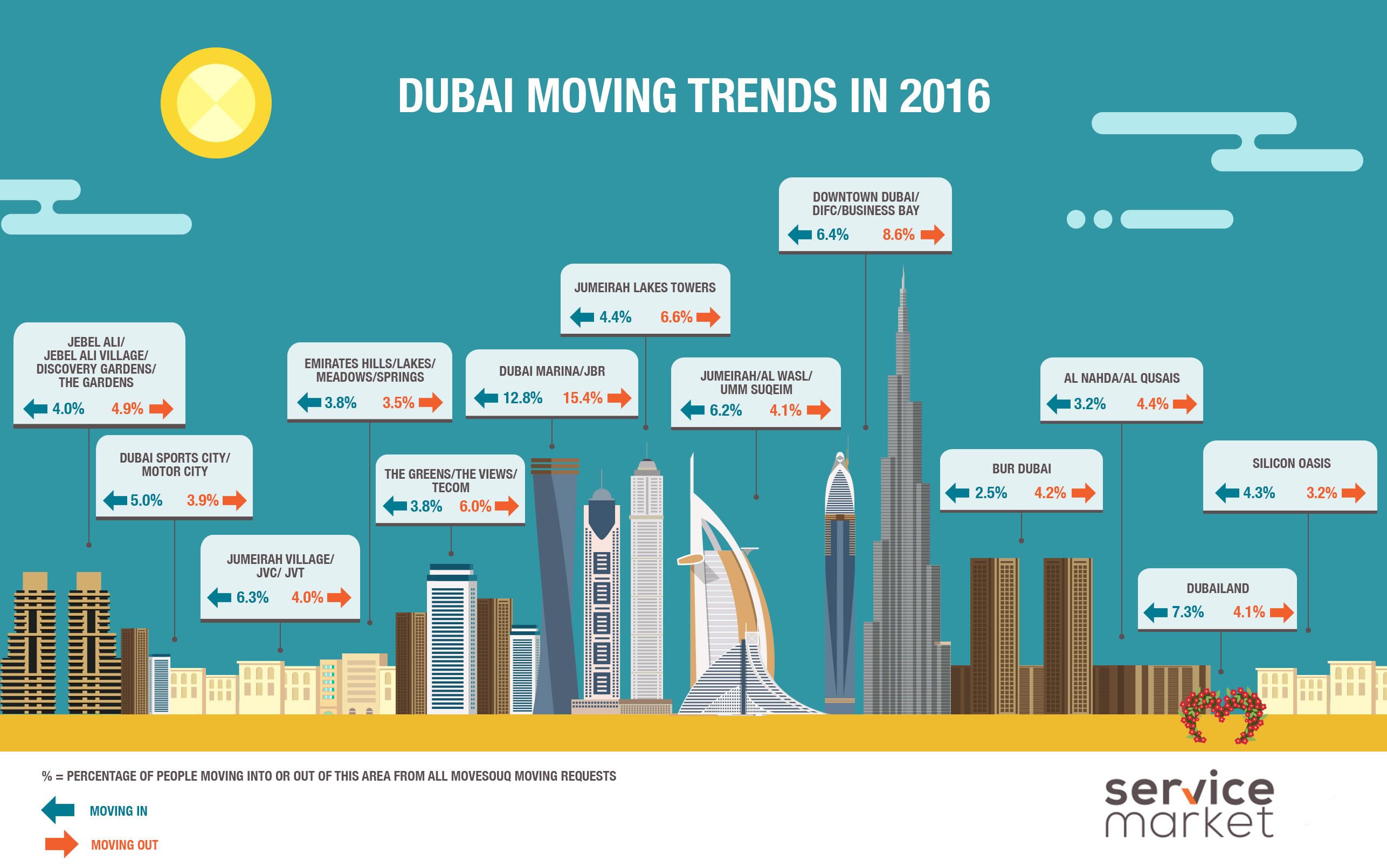 The top 10 areas in Dubai that experienced the highest inflow of residents in descending order are:
1) Dubai Marina/Jumeirah Beach Residence: 12.8%
With its abundance of residential towers and apartments to rent, it's no wonder that the Dubai Marina and JBR area tops the list. The area has plenty of shops and restaurants and with its proximity to JBR Walk and the beach, its popularity is unsurprising.
2) Dubailand: 7.3%
Dubailand, home to Miracle Garden, the Butterfly Park and Global Village, is a large yet relatively newer area of Dubai which has a lot to offer. Although a lot of the area is still under construction, it promises a series of malls and entertainment attractions, including a number of theme parks.
3) Downtown/DIFC/Business Bay: 6.4%
Home to the world's largest shopping mall and the world's tallest building, it is not shocking that this is one of Dubai's most popular areas to move into. Easy access to Dubai Mall means plenty of leisure opportunities and shops galore! With an ice rink, aquarium, thousands of shops, and many of Dubai's most popular restaurants and bars in the area, you're unlikely to get bored!
4) Jumeirah Village/ Jumeirah Village Circle/ Jumeirah Village Triangle: 6.3%
With thousands of villas, townhouses and apartments, Jumeirah Village comes in fourth place in terms of the number of move-ins. The area has grown sustainably over the last few years, with a series of shops and community areas popping up. There are schools, medical facilities and plenty of leisure activities to keep you fit. It is an exciting place to live with a mixture of Islamic and European architecture.
5) Jumeirah/Al Wasl/Umm Suqeim: 6.2%
Jumeirah, Al Wasl and Umm Suqeim are located close to the coast of Dubai and the area consists mostly of private villas. It's typically perceived to be a more affluent area (the term Jumeirah Jane didn't come from nothing!) and has a wide range of malls such as Mercato and Town Center as well as restaurants, cafes and smaller boutiques. The area offers great access to the beach, with cycling and running tracks that are perfect for an evening stroll.
6) Dubai Sports City/Motor City: 5.0%
Dubai Sports City is a motor-sport themed area, which is host to a range of top-class sports facilities including a cricket stadium, golf club and one of Dubai's largest gyms. Motor City has a motor-sport theme and is home to Dubai Autodrome. Both offer residential units as well as office spaces and host a range of retail outlets including supermarkets and restaurants. If you enjoy sport this is the place to be!
7) Jumeirah Lake Towers: 4.4%
With almost 80 towers, which consist of residential apartments, offices and hotels, JLT comes in tenth place. JLT offers an abundance of restaurants and salons as well as strong links to the public transport system including two metro stations. Beautiful lakes, outdoor restaurants, leisure facilities and children's play areas make this ideal for family life. It's also a great option for people with pets! It's common to see people taking their dogs for walks around the lakes.
8) Silicon Oasis: 4.3%
Dubai Silicon Oasis is a freezone area located just off the Dubai-Al Ain Road. With numerous international companies setting up base here and reasonably priced apartments and villas, it is unsurprising that it is a popular area to move to.
9) Jebel Ali/ Jebel Ali Village/Discovery Gardens/The Gardens: 4.0%
Jebel Ali is close to business centers such as Dubai Internet City and DMCC and is located right next door to Ibn Battuta Mall, making it an ideal location for work and leisure. It is known to be one of the more affordable areas of Dubai and with different themed areas you can choose a style of property that suits you.
10) Emirates Hills/Lakes/Meadows/Springs: 3.8%
This area is a well-established and friendly community that consists of private villas and townhouses which typically have their own gardens and community centers. The parks, swimming pools and landscaped greenery are some of the key selling points to the area. Emirates Hills in particular is home to some of the most luxurious villas in Dubai (think lifts to basement swimming pools). But this luxury comes at a price; many of the villas in Emirates Hills cost over a million dirhams a year to rent! Prices in the Lakes, Meadows and Springs are significantly lower.
If you are looking to move out of your current home, get competitive quotes from multiple reputable moving companies on ServiceMarket.