Gardening and landscaping services in Dubai
Gardening and landscaping tips from The Home Project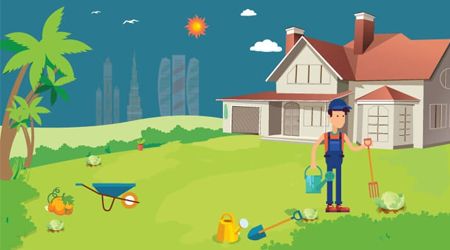 How to Hire a Gardener in Dubai
Every garden has its own specific needs and not every gardener would have the expertise to take care of your garden. In Dubai, you can see many freelance gardeners going from home to home to offer thei...
read more
5 Landscaping Ideas for Your Dubai Garden
After facing Dubai's bustling city life the whole day, people seek comfort in their homes. You can easily create a relaxing space in your home by adding some simple landscaping features to your garde...
read more
How much do gardening services in Dubai cost?
Monthly garden maintenance (100 sq ft)*
Monthly pool maintenance*
Artificial Grass installation*
How do I find gardening and landscaping companies in Dubai with ServiceMarket?
Gardening in Dubai can be challenging, especially given the weather! We understand the frustration of looking at wilted plants in our garden, so we have formed partnerships with the best gardeners, landscapers, and gardening companies in Dubai. Whether it's for long term garden maintenance or one-off gardening services, we'll help you get in touch with the best gardening contractors in Dubai right away! ServiceMarket is your guide to getting in touch with the best gardening and landscaping companies in Dubai, UAE quickly and easily. On ServiceMarket, you have the opportunity to look through different landscaping companies, compare their prices, read customer reviews and get quotes without any charge. With all the information you get through us, it will be easy to make a decision on who to hire to take care of your garden.
How do I request quotes for landscaping and gardening services in Dubai?
It's very easy and takes less than two minutes! Just fill out our short form explaining your gardening needs, when you want the Dubai gardening companies to contact you and any other special needs you have, then hit the big orange "Get Quotes" button. Next you can select up to three companies from an extensive list of providers based on your preference of price, customer ratings or company ratings. Once that's done, your request will be automatically sent to the gardening companies you've selected, and within hours you'll be contacted by them. To ensure the landscaping companies are available on your desired date, submit your gardening request 2-3 days in advance through ServiceMarket.
What are the benefits of using ServiceMarket to get quotes for gardening or landscaping services in Dubai?
You will get in touch with the best gardening and landscaping companies in Dubai: We form strong relationships with all our partners in Dubai, so you can always count on getting access to the best gardening service providers through our site. We provide all the qualifications of the company along with any additional information that you may need on our site, so you have access to everything with just a few clicks. We want you to have the best garden and the best ServiceMarket experience possible!
You will get up to 3 quotes from gardening companies in Dubai: Once you fill out our online form and pick the companies you want to contact you, you will receive up to 3 quotes within hours! They'll even call you!
You can filter the gardening and landscaping companies based on your needs: On ServiceMarket you have the opportunity to choose companies based on what you deem important. You can filter companies based on price, customer reviews, star ratings, deals, promotions, or special services. It's easy, fast, and convenient!
You will get the most competitive pricing for your gardening service: The gardening and landscaping companies that you select are competing for your business, so they will give you their best prices. It is up to you to decide which gardening company in Dubai you hire.
You get the service for FREE: ServiceMarket does not charge customers on the quotes nor do we collect commission from the service providers so you don't have to worry about that affecting your quote. The quotes are always purely based on the service you requested.
What do customers say about ServiceMarket?
ServiceMarket has been rated 4.3 out of 5 based on 457 reviews as of October 2018. - Read all customer reviews.
* All price ranges are only estimates based on quotes collected through ServiceMarket. These prices include the cost of lawn planting or maintenance. Additional charge may apply for additional services such as pest control, specialised fertilisers, et cetera. Excludes VAT