Is your home in Dubai starting to feel a little drab? There's no denying that all those dirt marks, paint peels, scratches, and the unwelcome fade is starting to wear you down. We know the feeling, we've been there, and so have most of our clients who have sent us thousands of queries over the months asking exactly what they can do to give their homes a new look. Maybe you've thought about moving to some place new (everyone does it), but hey, hold on, what about a paint job? You can book painters in Dubai to give your house a fresh look. But before you do that, it is recommended to find out about the cost of painting in Dubai.
Is the Cost of Painting in Dubai Too Much?
The idea of renovating the house must have crossed your mind a few times. However with all other priorities – the school for the kids, the new couch you've been saving for, that once in a lifetime vacation that you just don't have the will to push forward anymore – it just never seems to make it to the top of the list. Right? What you haven't probably factored in is the actual cost that you need to put aside for this home makeover. Rest assured that one coat of paint won't put that big of a dent in your budget but will definitely give your house a refreshed look.
How Much Do Painting Services in Dubai Cost?
After receiving hundreds of quotes from several painting companies in Dubai, we have created an infographic that shows the average costs involved when planning a paint job. From a studio to a four-bedroom villa – we have all the numbers! Click the image below to see an enlarged version of the infographic.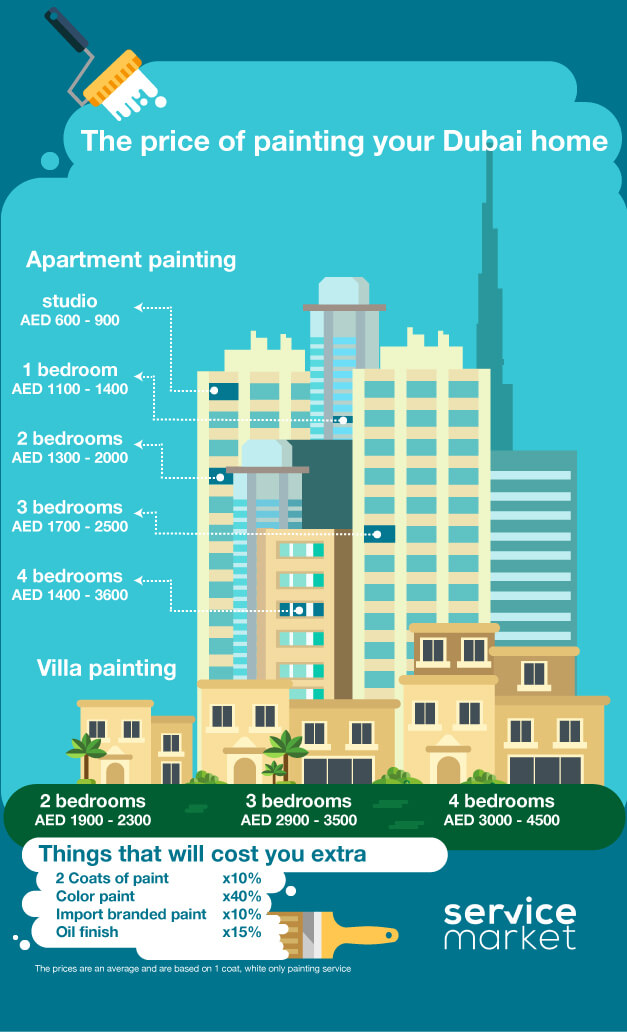 Just know that these prices are based on the average painting rates in Dubai, and only include one coat of white paint on walls. Below is a quick recap of the various rates:
| | |
| --- | --- |
| Apartment Painting | Villa Painting |
| Studio: 600 – 900 | 2 Bedrooms: 1900 – 2300 |
| 1 Bedroom: 800 – 1100 | 3 Bedrooms: 2200 – 2700 |
| 2 Bedrooms: 1200 – 1600 | 4 Bedrooms: 3200 – 3700 |
| 3 Bedrooms: 1500 – 1900 | |
| 4 Bedrooms: 2100 – 2600 | |
Factors That Influence the Cost
The cost of painting in Dubai is influenced by a number of factors. Here are a few of them:
Requesting ceiling painting service
Paint type
Paint color
Multiple coats of paint,
The number of painters.
If you're looking for a painting company in Dubai, be sure to give as much detail as possible about your home or office when you submit a painting request. We will get you quotes from multiple painting companies in Dubai so you can compare prices and customer reviews before making your decision!
How Much Does It Cost to Paint a Room in Dubai?
Sometimes, it is not the entire house that needs to be painted. Instead, you may be interested in painting just one or a few specific rooms. So, what will the cost be then? Well, if that's the case, know that it will usually cost you AED 450 to paint each room. However, please remember that this cost can change. This is because the exact price depends on the size of your room and if you want painters to bring the paint.
How Much Does It Cost to Paint a Villa in Dubai?
Villa painting cost in Dubai is a bit more as compared to painting a studio apartment. If you have a 3-bedroom villa, you can expect to be charged around AED 2500 for the service. However, if you own a 4-bedroom villa that needs to be painted, you will be paying around AED 3500 to get the job done. But remember that there are other factors that will influence the cost such as the color that you want for your walls and if you want the ceilings to be painted as well.
3 Tips to Remember Before Asking for a Paint Job
When you're in the process of deciding which company to hire to paint your apartment in Dubai, don't forget these three tips:
If you have young children, allergies, or are sensitive to the smell of paint, be sure to inform the painting company ahead of time so they can recommend the best type of paint, and plan to ensure you and your family are not exposed to fresh paint.
Discuss time frames with the painting company so you can make overnight living arrangements if necessary.
Plan ahead of time and be sure to book the painter on your desired date.
Conclusion
Your home is exposed to harsh weather conditions all year long. Therefore, it is understandable when you start to feel your home is getting a little dull. But you can always revive the freshness with paint. Also, the cost of painting in Dubai is not exorbitant. So, why not take advantage of that.
You can rely on ServiceMarket to get you in touch with the best painting companies in Dubai. After filling out a form and providing a few other relevant details, they will make sure to get the job done expertly.