While water supplied by DEWA is considered fit for human consumption, a dirty water storage tank means that the water that reaches you will not be clean and fresh. While you might think that a water filtration system protects you from health issues caused by consuming unclean water, such systems are not 100% effective. Moreover, filtered water isn't used everywhere. You might use filtered water for cooking and drinking, but you do not use it to brush your teeth or bathe your children. ServiceMarket brings you ample reasons to get your water tank cleaned by a qualified water tank cleaning company in Dubai at least once a year.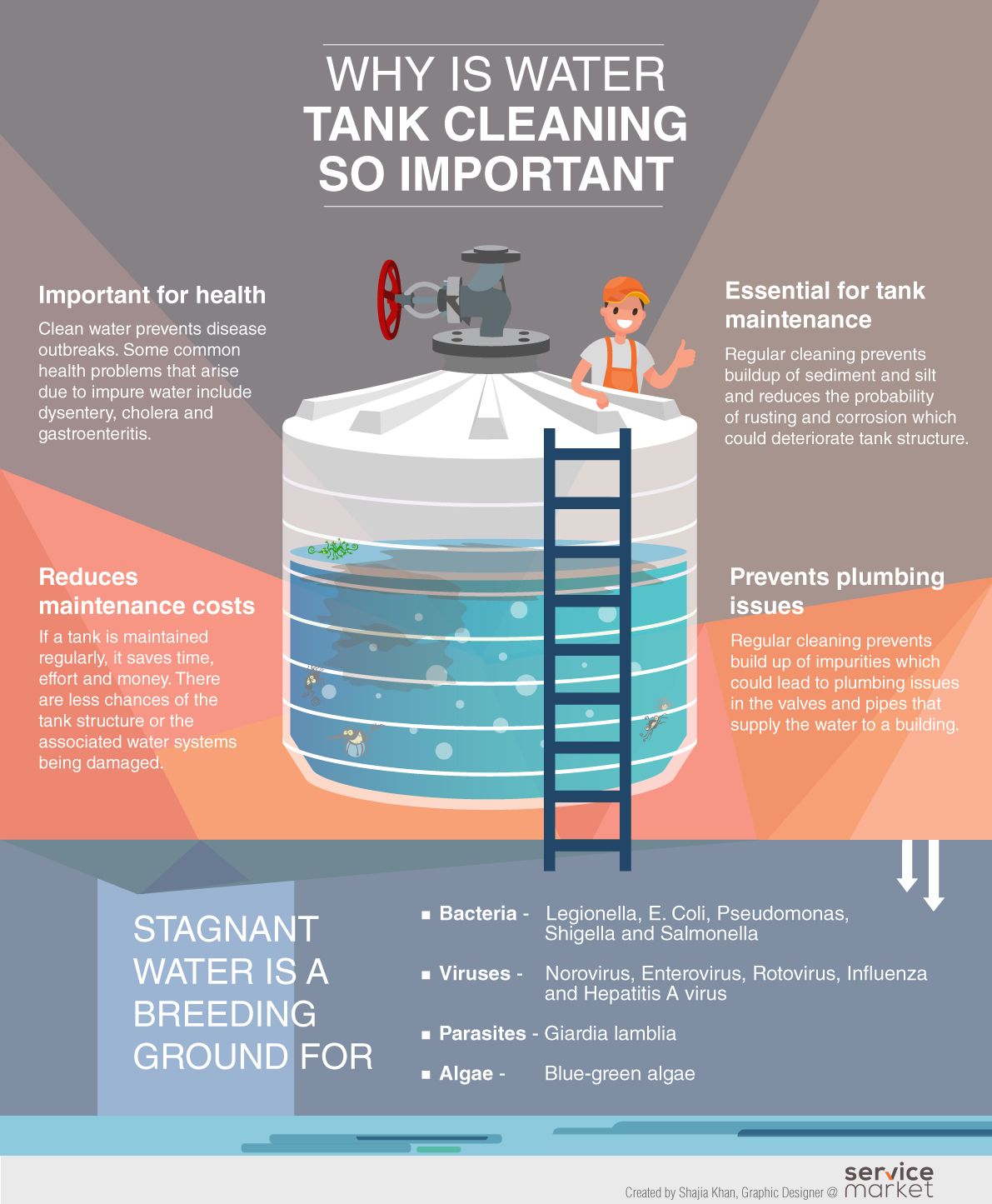 Important for health
Unclean water can lead to disease outbreaks since many types of bacteria, parasites and viruses thrive on stagnant conditions created by rust, scale, dirt and debris. Algal growth is also common in dirty water tanks, especially in hot climates. Some common health problems that arise due to impure water include dysentery, cholera and gastroenteritis. To protect yourself from such diseases, it is essential to get water storage tanks cleaned on a regular basis. For building owners, it also means compliance with health and safety regulations of Dubai Municipality's Public Health Department.
Essential for tank maintenance
Regular cleaning of a water storage tank prevents buildup of sediment and silt that is present naturally in the water supply. It also reduces the probability of rusting and corrosion. If a tank isn't cleaned regularly, however, the tank structure deteriorates and will require repair or replacement.
Reduces maintenance costs
If a task is carried out regularly, it always takes up less time and effort which in turn reduces costs. A tank that isn't cleaned for years, for example, would rack up maintenance costs when its condition and the resulting issues can no longer be ignored. Then besides tank cleaning, issues like untreated corrosion, scale formation, blockages and leaks, damage to associated water systems and proliferation of microbes would have to be dealt with.
Prevents plumbing issues
Buildup of impurities can also cause plumbing issues in the valves and pipes that supply the water to a building. To ensure that this doesn't happen a water tank and its associated systems needs to be properly maintained through regular cleaning.
To get the overhead water storage tank at your home, business or building cleaned, book a professional cleaning company in Dubai through ServiceMarket. You can also get free quotes from multiple water tank cleaning companies in Dubai on our website.