Our most popular services in Abu Dhabi
Car insurance tips from The Home Project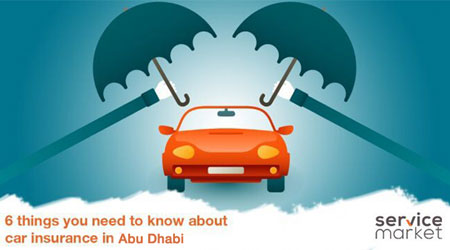 The 6 Things You Need to Know About Car Insurance in Abu Dhabi
There are quite a few things you need to do before you can drive your car down Sultan Bin Zayed The First Street. One of those things is buying car insurance in Abu Dhabi. Whether it is a new car or a...
read more
How much does car insurance in Abu Dhabi cost?
Value: AED 30,000 - 50,000*
Value: AED 50,000 - 80,000*
Value: AED 80,000 - 100,000*
Value: AED 100,000 - 150,000*
Value: AED 150,000 - 300,000*
Why do I need car insurance in Abu Dhabi, UAE?
As a Abu Dhabi resident you are legally required to have a valid insurance policy for your vehicle, whether it's a car, a motorcycle, or a truck for your company.
How does ServiceMarket help me find a car insurance policy in Abu Dhabi?
There are many companies in Abu Dhabi that offer car insurance policies. Each policy has its own terms and conditions and sifting through them all to find the one best suited for you may be challenging. That's where ServiceMarket comes to your rescue!
At ServiceMarket, you describe the car you want to insure and your driving experience and in return we show the car insurance plans available to you. You can filter the results based on what the car insurance policies cover and their prices. Once you have found a motor insurance policy you like, you buy it directly using your credit card.
So, in short: We give the information you need to make an informed decision on your Abu Dhabi car insurance, whether it's for you or for your company. Best of all? It's completely for free!
How do I use your website to compare car insurance in Abu Dhabi?
All you have to do is hit the "Get started" button above which will take you to our car insurance form.
The form will ask you a few questions about what type of motor insurance you're looking for, your driving experience and the details of your vehicle. If you face a problem or have a question, just click the chat button on the form and our car insurance specialists will get you on the right track again.
What are the benefits of using ServiceMarket to get my car insurance?
You'll always get in touch with the best car insurance companies in Abu Dhabi: We form strong relationships with all our insurance companies so you can always count on getting access to the best rates and insurance policies available in Abu Dhabi.
You'll can compare quotes for your Abu Dhabi car insurance request live on ServiceMarket: You will easily be able to compare multiple options for your car insurance request and sort the results based on policy coverage such as whether it includes agency repairs, your next Oman trip or road side assistance.
You can read real and up-to-date customer reviews for all Abu Dhabi car insurance companies: You can always read real and up-to-date customer reviews for our Abu Dhabi car insurance partners. That means that you have access to all the customer reviews of the insurance company written by previous customers. That gives you a better sense of the experience you will have with the insurance company with regards to claims, processes, and overall satisfaction.
You are guaranteed to get a competitive car insurance rate before buying online: The insurance companies know they are competing with each other, and will do their best to provide the most competitive rate as well as offer exclusive discounts to you as a ServiceMarket customer. Once you have decided which policy you would like to buy, you can buy your car insurance with a credit card on our site.
What do customers say about ServiceMarket?
ServiceMarket has been rated 4.3 out of 5 based on 491 reviews as of November 2018. - Read all customer reviews.
* All price ranges are only estimates based on quotes collected through ServiceMarket. For accurate quotations based on your preferences and details, please submit a request to get your free car insurance quotes. Excludes VAT