If you're staying home due to social distancing, you've likely got a lot of time on your hands. While spending some extra time watching movies is great for a few days, you may soon feel the urge to do something more meaningful and creative. So put that time to good use and get to those home improvement tasks you've been postponing! Of course, since it can be challenging to do everything on your own, you always have the option to book handyman services in Abu Dhabi for extra help.
If you've got home improvement ideas but haven't put any plans into motion, now is the perfect time to do so. So, brush the dust off those plans and start using your time productively and make your space a beautiful place.
Here are 5 easy home improvement ideas you can consider to fill some of that extra time while you're staying home in Abu Dhabi.
1. Create an accent wall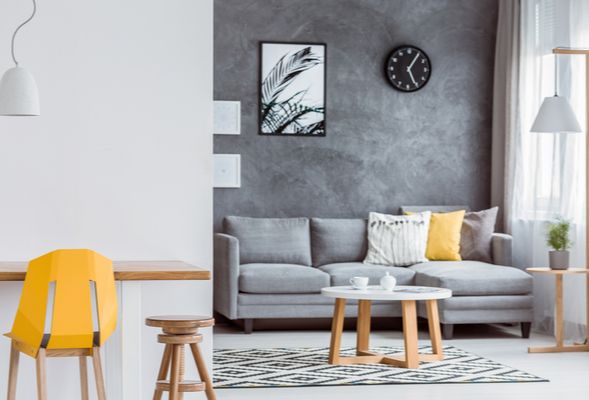 Using paint or wallpaper to create an accent wall is a great way to liven up a room. You can use a vibrant paint colour or a patterned wallpaper for a bold look, or add drama to your space by using a dark colour such as deep navy blue, charcoal, or black.
If you want a subtle look, accent a smaller space such as behind a fireplace or shelving unit, and keep the rest of your walls painted with a much lighter colour. If you are not up for doing it yourself (because let's be honest, painting walls is only fun for the first 10 minutes for many of us), hire a professional painting service in Abu Dhabi.
2. Hang photographs and paintings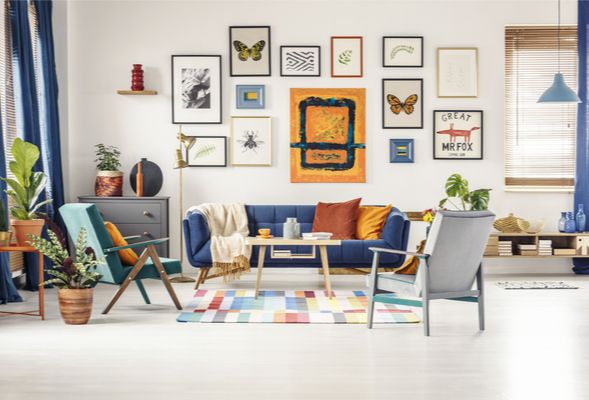 Many of us buy or print photographs and artwork but never actually hang it. Well, now is the time to do it. Of course, you can simply hang a few individual photos and prints but if you want to be more artistic, a gallery wall is a great way to make your space exciting.
Simply choose the wall you want to give a new look and hang different sized images in a way that looks almost random, and it is up to you whether you want to use different styles of frames or choose one design and stick to it.
If you want a quick or temporary solution you can use sticky wall tabs that are (relatively) easy to remove when you want to change up your wall design. Alternatively, if you want something that will be stronger and more permanent, hire a handyman who can drill holes and add screws or picture hooks to your wall so you won't need to worry about anything falling off!
3. Add a garden wall
Add a small garden or living plant wall inside your home or in an outside space, like your balcony or a courtyard. This is a great way to bring greenery into your space and will add interest and colour to your home. A living wall can be as big or as small as you need it to be, depending on your space. You just need to make sure that the wall you attach it to is solid.
You can create your garden wall either by putting up shelves and simply arranging your chosen plants all over or you can install full planters so that you have a full row of plants all in the same pot. If you use trailing plants you may be able to cover the sides of the planters so it will look like the plants are growing directly from the wall. Although this job could be done yourself, you'll likely need a masonry drill to guarantee that the shelving or planters are secure on your wall, so you may need to book a handyman service in Abu Dhabi.
If you live in the UAE, be sure to choose only plants that thrive in the heat and sun, or try to choose a shaded spot. Most house plants do fine, but it's worth doing some research beforehand.
4. Fix all those little things
Can you hear the faucet dripping into the bathtub? Do you have to open a drawer or cupboard in "just the right way" for it to open properly? What about the old curtains that get caught on the rail every night? There are so many little problems we learn to live with because we don't have the time or the motivation to fix them, so now is the time to address them. Hire a handyman to realign your cupboards or fix a drawer runner, replace your curtains, and fix the leaky faucets and taps. It's a good idea to go around your home and make a list of every little thing that needs to be done so you can work on them when you have time, or pass the list over to a professional.
With so many pending home improvements, and so much time to do it in, there is really no excuse not to get all the tasks ticked off your list! Especially when you can get help from home maintenance companies in Abu Dhabi through ServiceMarket!