Is it time for you to bid farewell to expat life and head back home from Dubai or any other emirate? You would be needing all the help including the budget as international moving is not cheap. But for that, you need to know what it costs! Our team at ServiceMarket has helped thousands of people obtain quotes from different movers and packers. We spoke to one of our longest-standing international moving partners, ISS Worldwide, to present you with the 4 main factors that play a major role in determining the international moving cost in Dubai. These would help you in selecting the right international moving company in Dubai.
Factors That Influence the International Moving Cost in Dubai
Cost is the first thing that comes to mind whenever the topic of relocation comes up. After all, knowing the expenses helps in making better decisions. With that said, here are some of the factors that influence the price of moving.
#1. Volume of the Move
The cost of your move is going to be directly proportional to the number of goods you move. If you are considering air freight, then the cost will be calculated on the total weight of the goods that you want to move. However, if you are shipping goods by sea or land, the cost is calculated based on their volume (cubic meters).
#2. Type of Shipment
There are various shipment options to choose from depending on how much furniture you are moving, such as FCL (Full Container Load), LCL (Loose Container Load), or Groupage. A Full Container Load is when you have a dedicated container that will transport only your possessions, and is the safest and fastest way of shipping your items. However, this is also the most costly method.
A Loose Container Load or Groupage option would suit you more if you only want to ship a small amount of furniture (i.e. furniture for a 1 Bedroom apartment or less). This involves sharing the container with other items being shipped to the same destination.
Although Groupage is generally more cost-effective than LCL, it is also the slowest form of shipment because you will have to wait for the groupage service provider to get sufficient volume to fill the container – it can take anywhere from a few days up to 4 weeks, so your move would be on hold until then!
#3. Mode of Transportation
The various modes of transportation you can choose from include air, land, or sea, and costs vary depending on the chosen mode of transportation. Air freight is generally more expensive compared to shipping your goods by sea – you can expect to pay almost three times the amount for air freight. At the same time, however, sending goods by air is also the quickest way of transporting them. Although shipping your goods by sea may be easier on the pocket, you would also have to allow anywhere from 8 to 10 weeks for your goods to reach the final destination.
Moving your goods by land is a great option for those who are relocating to nearby areas, such as Qatar. This is the most cost-effective mode of transportation for short distances if you are moving within the GCC.
#4. The Type of Service You Need
The 3 main types of services for international moving are door-to-door, door-to-port, and port-to-port. Door-to-door service involves movers in the entire move, from packing the items to delivering and unpacking them once they reach your new home. Furthermore, they also take care of all the paperwork at customs. However, door-to-door service will put you back by a significant amount.
On the other end of the spectrum is port-to-port service, where the mover will only be responsible for shipping your goods overseas. You will have to take care of packing the goods, dealing with foreign customs and getting the goods to your new house. This is the cheapest option available.
What Are the Top Destinations for Moving in the UAE & How Much Do They Cost?
Our helpful infographic below summarizes the cost of international moving for the most popular destinations out of Dubai. Have a look at it to find out approximately how much it can cost you to move your goods internationally!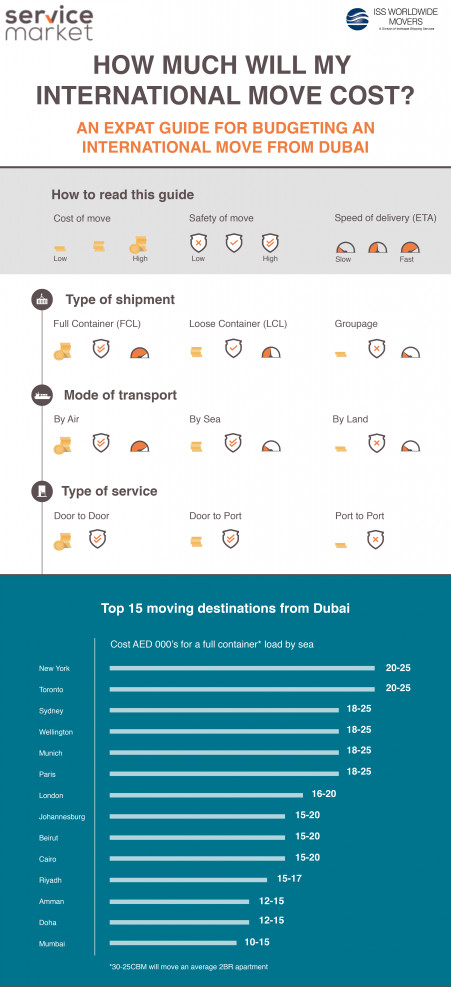 Conclusion
And there you have it! Now you should be able to determine the international moving cost in Dubai. Although moving may present different challenges, luckily, ServiceMarket can make the process easier for you. You can count on their team of professionals to help you book a relocation company in Dubai. They will then take care of all the hassle so you can move with complete peace of mind.