When measuring the exact size of the apartment or house, it can be difficult to maneuver it all on your own, hence hiring a storage company in Dubai can prove helpful. You will be able to plan out storing your furniture better after you have a general idea of the storage in Dubai.
Why Hire a Professional
You might want to consider hiring a surveyor to give you an idea of the exact dimensions and volume available to you as they can compute the total volume of everything just by scanning the room. Laymen, unfortunately, do not possess such scanning skills and do not have proficient knowledge about what to fit in compact places which makes it difficult to decide the measurements of the furniture or an item you wish to put in that space. So, hiring surveyors might prove to be of tremendous help while moving.
Cubic Meter Basics for Storage in Dubai
Almost all movers across Dubai, Abu Dhabi, and Sharjah estimate the volume of furniture in cubic meters. A cubic meter is simply a space that is 1 meter wide, 1 meter long, and 1 meter high. Most movers and storage companies in Dubai charge customers based on the total volume that needs to be stored or moved. That being said, it's always wise to get multiple companies to survey your home to make sure you're getting accurate estimates. But why leave it to only other people to estimate for you? You can do it too!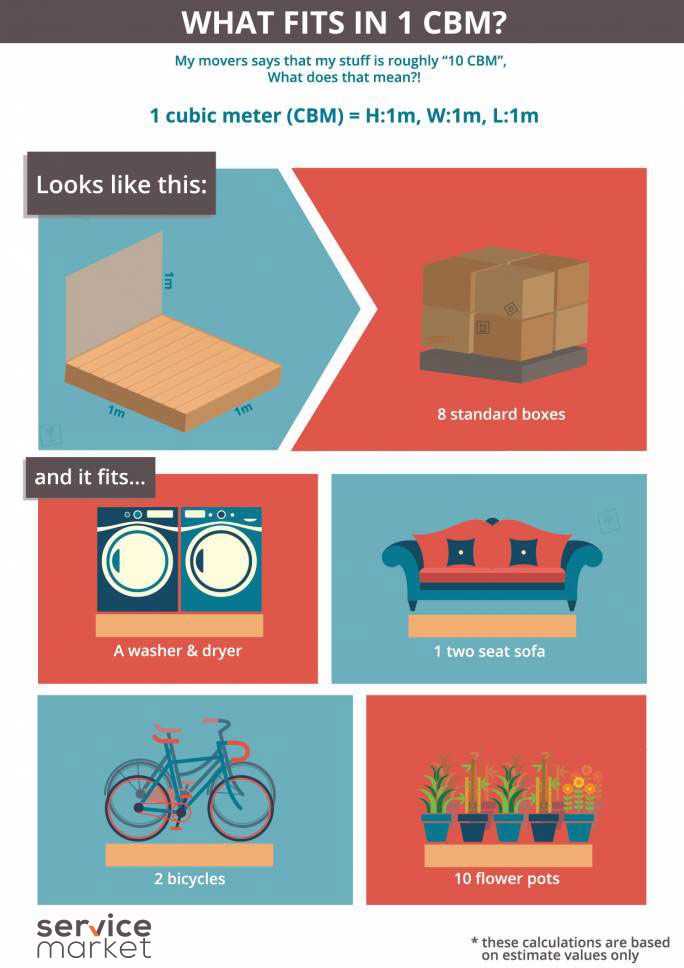 What Fits in One Cubic Meter
Some people just have a skill for visualizing and calculating something purely based on a standard measurement. Other people, however, need more visuals. It might be helpful to know that the smallest place you can rent out for storage is one cubic meter in size. To get a rough idea through visuals you can fit either a washer or a dryer, two bicycles side to side, a two-seater sofa, or even ten large flower pots in one cubic meter.
Conclusion
All in all, one cubic meter is basically a three-dimensional space that is one meter all around. If you have the size of the storage unit in mind, you can book a storage company to help you measure what you can fit in your space. It might be helpful to do your research on storage in Dubai specifically to help you declutter.
Luckily, ServiceMarket has got you covered because we are a one-stop solution to all your storage concerns. From lockable-self storage to low-cost shared storage, there are many options available to you! Let us know your storage requirements by filling out a short form and we will provide you with the best quotes Dubai has to offer!