If you think you can get all your items moved by your moving company in Dubai, think again.
Relocating is a stressful task, and it's always best to seek professional help to get the job done. But there are some items that should not be given to the moving company to help you move to your new place. Of course, obvious things such as loaded guns are recommended to not be handed over to the movers for moving.
Some additional things are listed below.
1. Perishable Food Items
If you are planning to relocate then you should start munching those leftovers in the fridge at least 2-3 days in advance. So by the time your moving day arrives, you won't have any leftovers to take with you.
Since the movers cannot keep the perishable items cool while on the move, they don't allow them on the truck.
So unless you are willing to pack all the perishable items in a large cooler and then move it to the new home yourself, you should get rid of perishable items such as butter, yogurt, milk, and any frozen items.
On the other hand, movers in Dubai would gladly move any non-perishable items such as canned goods, pasta, and anything sealed left in your pantry.
What should you do? For perishable items, anything that has been opened should either be consumed or tossed away because they are not worth the hassle to move.
As far as canned goods are concerned, you can donate them to a local food bank if you decide not to take them along.
2. Family Heirlooms And Important Documents
Family heirlooms may or may not be expensive, but they hold sentimental value. When moving, you want to transport such important items and documents yourself to the new place.
Usually, the moving companies do not take responsibility for moving such precious items because there is always a possible risk of losing or damaging the belongings.
When the packers are moving your things from your old house to the new one, there is a chance that something might break or get lost.
Most companies cover such losses, but on the present market value and not at the one purchased. Also, if an important document or a precious heirloom gets lost, no amount of money could cover that.
What Should You Do? Any item that holds sentimental value or important documents, including checkbooks, keys, jewelry, photo albums, and medical records, should be moved personally.
3. Flammable Substances
When transferring your belongings in a moving truck, it is best to avoid placing flammable substances as it can get very hot in the back of a moving truck. If the journey is long, across states, it can be highly dangerous.
Some things that you should avoid include car batteries, liquid cleaning material, pesticides for your lawn, cleaning material like bleach and thinners, etc. There is a high chance of leakage inside the truck, which may result in an explosion due to the flammable properties of such substances.
What Should You Do? Such items are not very expensive so it is best to discard any flammable substances that cannot be moved in a moving truck.
Checklist of Things Not to Be Placed Inside a Moving Truck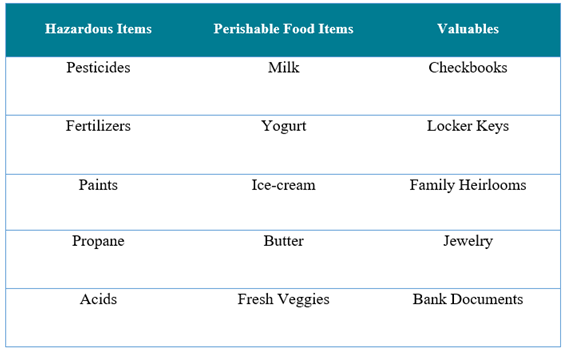 The Last Word
If you are searching for moving companies in Dubai to help you relocate to a new place, have a look at ServiceMarket. ServiceMarket will provide you with the best movers and packers in Dubai. 
Moreover, they will also guide you on what items you can move in the moving truck and what items should be avoided. This way you can relax and not worry about a thing. Leave everything to the moving professionals. Happy Moving!