When you go on vacation or a business trip, don't you just have these moments when you wish you had your car with you? We completely understand. We've outlined the 3 things you need to do to temporarily ship your car to the GCC country you're visiting – it's super easy!
Below is also a table of approximate costs of shipping your car to the UAE from other GCC countries that we were able to compile with the help of our car shipping partner, MESAR. MESAR is specialized in car shipping within the GCC and they've been operating since 2008. The below costs are just approximate prices and are meant only for temporary shipping; additional charges for exporting may differ.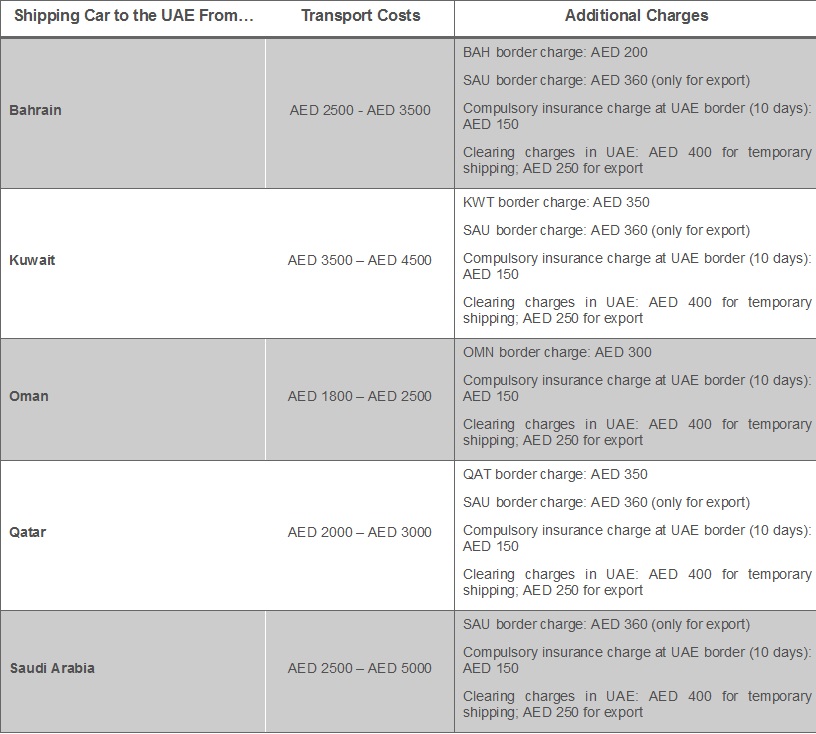 Prepare your documents: If you live in the GCC you know that you should always have multiple copies of your passport and residence visa. For temporarily moving your car to any GCC country from another one, you need to have a passport copy, residence visa copy, original registration of your car, and copy of your driver's license.
Attain a Carnet De Passage certificate: GCC residents need to attain a certificate called Carnet De Passage (also known as a trip ticket), which is an international customs document that covers the temporary entry of vehicles into a country. GCC nationals do not need this. In the UAE you can attain this document from the Automobile and Touring Club.
Find GCC specialized car shippers: This is the easiest part! All you need to do is fill out this quick FORM, which simply asks you when you need to move your car, the type of your car, and where you're going. Then we'll do the rest! We'll get you multiple quotes from different car shippers in the UAE so you can compare prices, services offered, and customer ratings of the companies.
If you would like to export your car to or from the UAE check out these blog posts for some more information:
You easily find the best car shipping companies in Doha on ServiceMarket.