Looking to ship your car from the UAE? The cost of car shipping can depend on many different variables. But you can still handle car shipping in Dubai with the right information. Below you will find a list of 19 common destinations people in the UAE ship their cars to and the approximate costs along with the average duties and taxes for each country.
Cost of Car Shipping to the Most Popular Destinations
ServiceMarket can help you find car shipping companies to ship your car to any of these destinations and more! Just click here and fill out the form. Or call us directly and we'll handle the rest. If you're trying to decide on the best car shipping company for you, our list of the top 5 car shipping companies in 2022 may be a good place to start.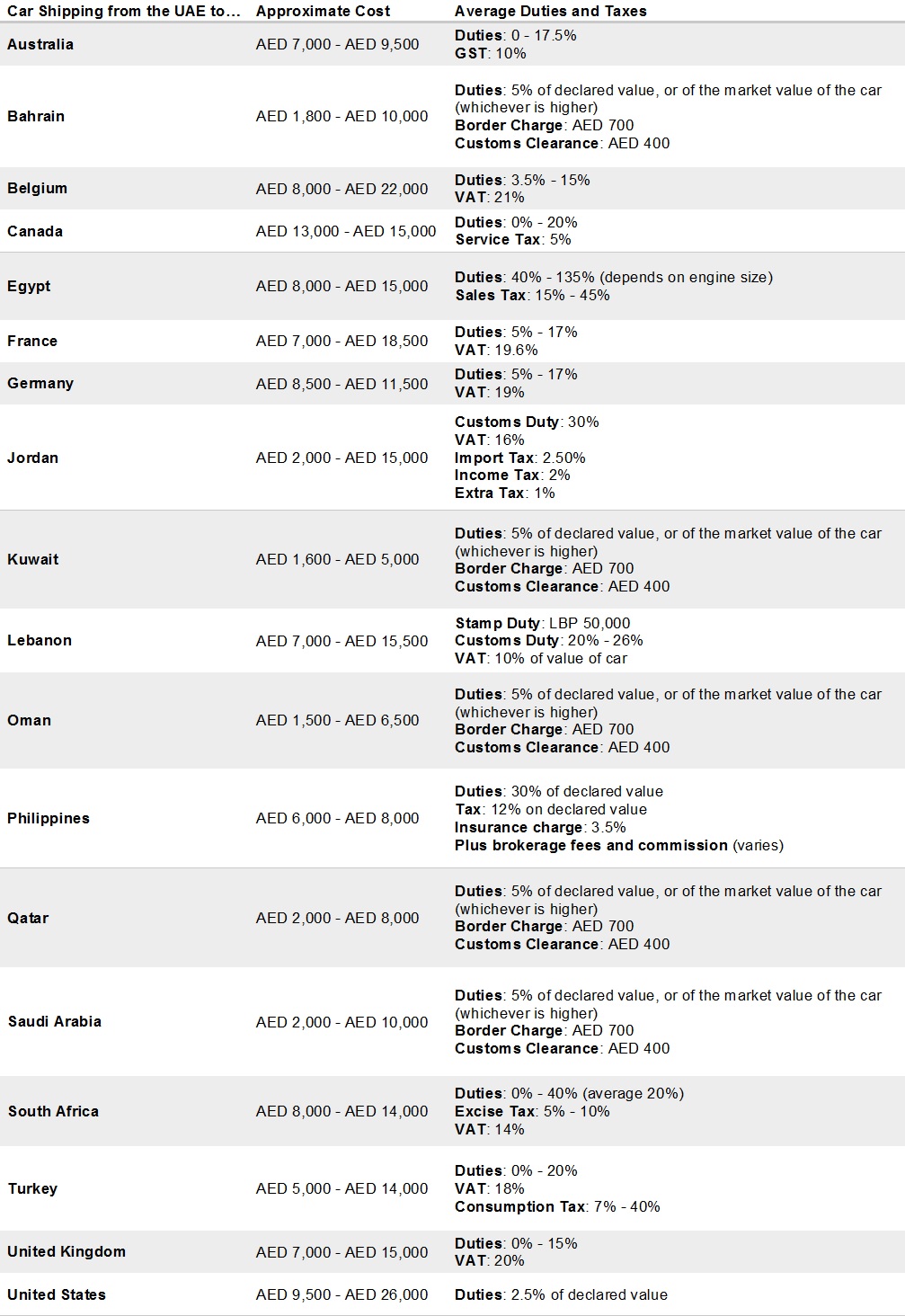 VAT: Value added tax
GST: Goods and Services Tax
IMPORTANT
The approximate costs listed are just estimates and should not replace exact figures.
The larger ranges are due to the varied shipping options available for each country.
Example: The approximate cost for shipping your car to Bahrain is AED 1,800 – AED 10,000. This means that AED 1,800 is the approximate price for the lowest cost option which is roll-on, roll-off on a car carrier. While AED 10,000 is the approximate cost for shipping to Bahrain in a container by sea.
The costs listed exclude any customs duties and taxes that you may incur on shipping.
Example: Shipping your car to the Philippines costs roughly between AED 6,000 to AED 8,000. However, this cost is ONLY on freight charges. There are still taxes, duties, and many other additional charges. Once added, the cost of shipping your car is almost 100% of your car's value. This is why most car shipping companies discourage shipping your car to the Philippines. However, if you are a diplomat you do not have to incur these high car shipping prices.
You may find that certain countries have much higher import duties, customs, and levies than others. To help you make a smarter and financially safer decision, make sure your destination port is not on this list of countries. These destinations can prove very expensive to ship cars to based on tax and customs duties.
At the time of publishing, the average duties and taxes listed are correct. However, they are subject to change without notice. It is always advisable to conduct extensive research after referring to the table above.
Different countries have different requirements and car specifications. It is important to adhere strictly to them before you can legally register a car there. Therefore, it's advisable to fully understand the restrictions in place. This helps to make sure that your car conforms to all legal and safety requirements beforehand. For example, you cannot legally import a Left-Hand-Drive vehicle into South Africa.
In case you missed our other articles in the Car Shipping Series:
4 Myths About Shipping Your Car to Europe from the UAE
How to Ship Your Car from Dubai
How to Ship Your Car from Abu Dhabi
Car Shipping Made Easy For You!
Bear in mind that the cost of car shipping can be significant. Even with the many options available for car shipping in Dubai, you can't avoid customs, taxes, or import duties. Getting insurance is usually optional. But unless you're willing to accept a damaged vehicle or lose it completely, insurance matters. On ServiceMarket you can compare car shipping companies and costs with greater ease.