Ever wondered what's the biggest pest control problem in your area? Or which residential areas have the worst pest control problems? Imdaad, a leading provider of Integrated Facilities Management Solutions in the UAE, and ServiceMarket ran an online survey to answer these questions. The result of the "Creepy Crawly" survey may shock you!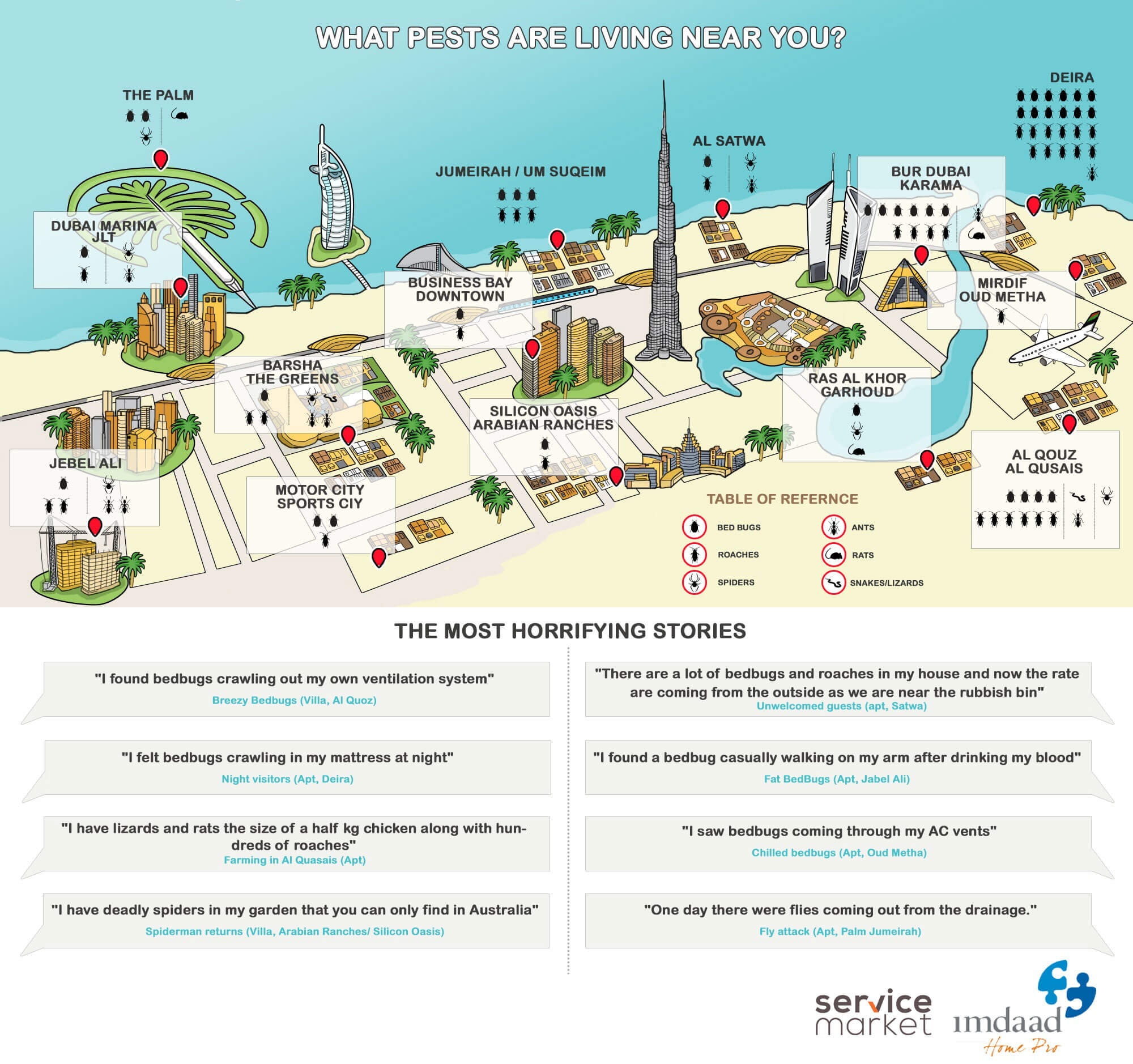 The results show that 80% of pest control issues in Dubai revolve around cockroaches in the house and bed bugs in the furniture. Majority of the complaints came from Satwa, Deira, and Bur Dubai. Do you live in one of these areas? Get help now!
Complaints around these three areas were similar in nature. Out of all complaints:
40% were about bedbugs,
40% were about cockroaches,
10% were about ant infestation and
10% were complaints about spiders, snakes and lizards.
According to the results, out of every three Dubai residents that took the survey, one resident sought out professional pest control services for their home in the last 3 months. Have you?
> How Much Do Pest Control Services Cost in Dubai?
Some respondents even shared personal stories about their pest problems in the survey.
Apparently Arabian Ranches has Australian spiders:
"I have deadly spiders in my garden that you can only find in Australia" – Arabian Ranches
Al Qusais has a lot of diversity…:
"I have lizards and rats the size of a half kg chicken along with hundreds of roaches" – Al Qusais
Satwa's unwanted guests are getting a little too comfortable:
"There are so many roaches in our house. You can even sometimes see them roaming our beds" – Satwa
Finally, just:
"sooooooooo many roachessssssssss"
Do you have a horrifying pesky pest problem in your home? Did you just see an ant? Don't let the problem escalate! Get pest control help on our website!
Check out Imdaad's website here: www.imdaad.ae