Are you relocating from Abu Dhabi? If so, you're likely looking for the best way to do so and wondering how much it costs. This handy guide by ServiceMarket will look at all the factors that determine your cost of moving from the UAE. It will also help you understand how much international movers and packers in Abu Dhabi charge for shipping your belongings to some of the popular destinations.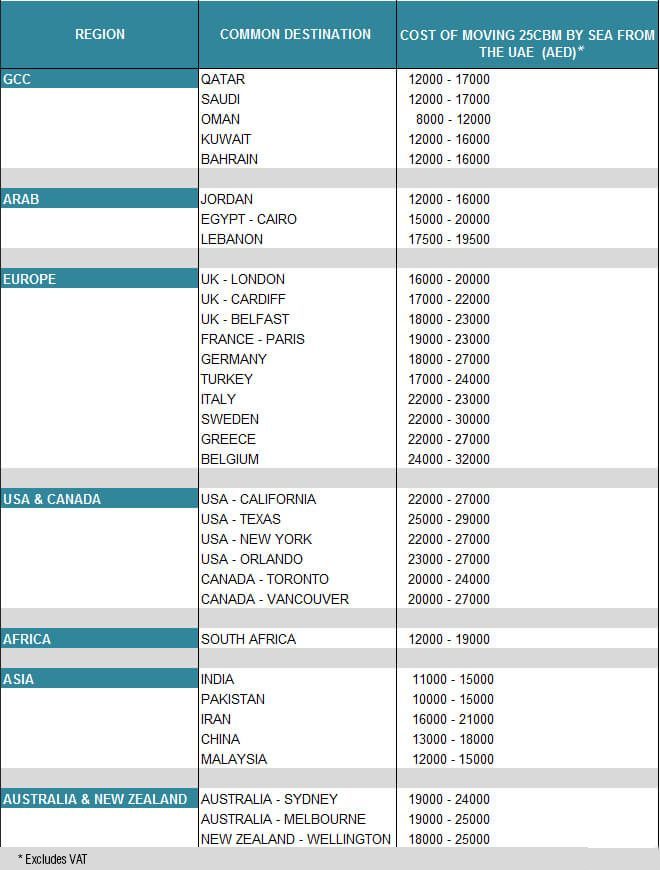 Do you want your belongings to be transported by land, sea or air?
The method of transport you select will make a significant difference in your overall expenses. It depends on your budget, the distance from your new home, and how soon you'll need your goods to be delivered.
The fastest way to ship your possessions is by air, but it is also the most expensive option.
Shipping by sea is the cheapest option, but your possessions won't usually reach you for 8 – 10 weeks, or longer. Obviously, this is a significant amount of time, and you'll need to plan for this delay if you choose to go for the cheapest option.
If you are moving to a nearby destination, then land is usually the best option.
What is the weight and size of your cargo?
Your expenses can be minimised by only taking along the things you love, and donating, selling or discarding the rest. If you are moving by air, then the cost will depend on the total weight of the items you want to take with you. When it comes to moving by land and sea, the cost is usually calculated by measuring the volume of your possessions.
Which service is right for me?
Depending on your needs, budget, and preferences, here are your options:
Door-to-door: This is the most convenient service, but also the most expensive. Your moving company will take care of everything, from packing to paperwork. This is ideal if you want to make it hassle-free.
Door-to-port: The international movers and packers in Abu Dhabi will pack all your possessions and ship them to a port. You'll be responsible for the paperwork at customs and transport of the boxes to your new house.
Port-to-port: This is the most cost-effective type of relocation service in Dubai. Your shipping company in Abu Dhabi will ship your possessions from the port in the UAE to the next. You'll need to manage other things such as paperwork and transport from there on your own.
How far are you moving?
Generally, the further away your new home is, the more expensive it will be to get your goods shipped. It's worth noting that the duties and taxes in some countries are higher compared to others.
The process of estimating the cost of relocating to other countries from the UAE can be challenging, so we have compiled the aforementioned cost sheet to help you. It features the cost of transporting 25 CBM of goods by sea. You can generally fit the contents of a two-bedroom house in a 25 CBM container. It's important to remember that this is just an estimate, as it will vary depending on where you're moving to, how much stuff you're moving, and how you plan to ship it.
Moving houses can be a very expensive and overwhelming experience, especially if you are planning to move to another country or even another continent. If you enlist the help of professionals shipping companies in Abu Dhabi, however, it will be much easier to manage!
You should always look for quotes from multiple international movers and packers in Abu Dhabi. Don't forget to read the reviews from past customers and check accreditations to make an informed decision.