You've moved to Dubai, and the additional income from living in a tax-free economy means that you can finally consider moving into the house of your dreams. If you are ready to seal the deal on a villa, you'll want to think about how much it costs to rent or buy such a property. You will also have to consider the cost of running your home. You can find a handyman in Dubai to take care of minor fixes around the house. However, it is advised to plan your budget properly as home maintenance is a recurring expense. It's easy to hire a handyman in Dubai and the process is not too complicated either.
How Much Does It Cost to Maintain Your Home?
Our team at ServiceMarket, the largest online marketplace for home services in the UAE, has helped over 50,000 UAE residents find qualified service professionals for services around the home. Using that information, we have been able to derive the range of costs required to maintain a home. We found that, on average, it costs a family roughly 2% of the value of their home to cover their home expenses yearly (excluding rent or mortgage expenses). This means that an average 3-bedroom home in Dubai will require an annual expense of AED 70,000 – AED 100,000 per year to maintain.
Here's how these expenses breakdown for an average 3-bedroom house in Dubai: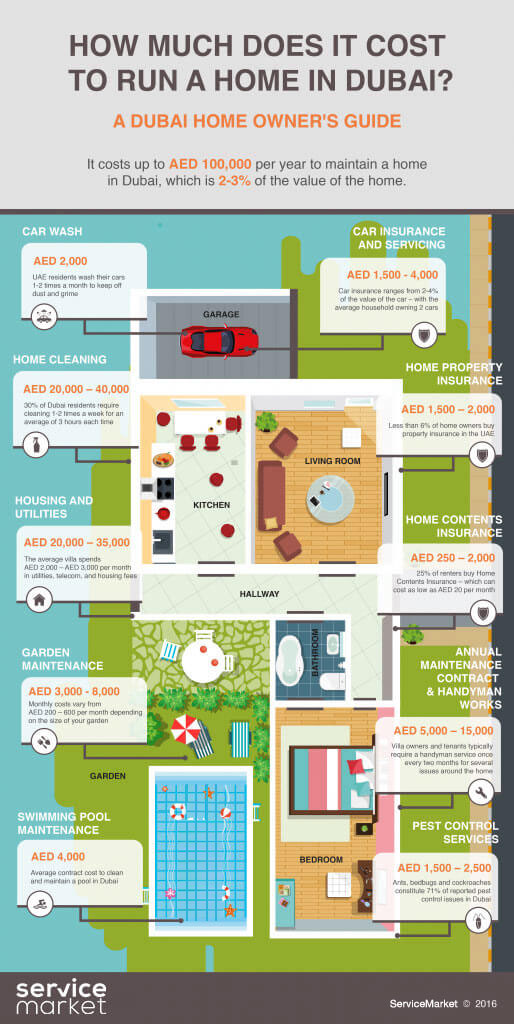 What Comes Under Home Maintenance
Home maintenance is the ultimate solution to keeping your homes clean and tidy. Plus, it helps in ensuring that your systems and appliances run longer. It also increases home safety. Typically, here are some of the services that are required to have a functional and well-maintained home:
1. Annual Maintenance Contract
Budget AED 3,000 – AED 6,000 per year
Taking out an annual maintenance contract will allow homeowners to have unlimited access to emergency services as well as plumbing and electrical works, AC cleaning and servicing, and windows and doors inspection on a biannual basis. An annual maintenance contract will cost you from AED 3,000 to AED 6,000 (for unlimited servicing and maintenance), depending on which amenities are included in the package.
2.  Services of a Handyman in Dubai (Repairs and Replacements)
Budget AED 1,500 – AED 2,500 per year
Although it is possible that your appliances and fittings may work smoothly for one whole year or more (especially if they are newly fitted), it is always safe to put aside a small amount. This is because you may end up needing to hire home maintenance services in Dubai. You may also have to purchase spare parts to replace worn-out/damaged parts of existing appliances and fittings, such as ACs, doors, cabinets, refrigerators, and washing machines. Although AED 2,500 is a safe amount to put aside, the actual amount you end up spending will depend on the models and makes of appliances and fittings used and how much repair work is needed.
3. Water Tank Cleaning
Budget AED 699 – AED 1,500 per year
Contaminated water can lead to various diseases and health problems for the inhabitants of a house since water from these tanks is used for cooking, drinking, bathing, and more. It is important to get your home's water tank cleaned and maintained once a year. Charges are levied per unit and generally range between AED 699 and AED 1,500 per unit, depending on the service provider.
4. Pest Control
Budget AED 1,800 – AED 4,200 per year
The hot and humid weather of Dubai means that you may often find unwanted guests scurrying around. 70% of all pest control complaints in Dubai revolve around ants, cockroaches, and bedbugs in homes. You will likely need to call in a pest control service to treat your garden for ants and other pests. A single treatment will set you back around AED 149 – AED 350, and an annual pest control contract will cost you approximately AED 1,800 – AED 4,200 per year.
5. Home Cleaning
Budget AED 20,000 – AED 40,000 per year
A regular part-time cleaning service that takes care of cleaning up after the family around the house can put you back by AED 30,000 annually on average. However, if you want a more thorough cleaning and sanitization treatment done once a year, home sanitation and deep cleaning will cost you approximately AED 1,250 – AED 3,000 depending on the size of your home. If you're even more concerned about getting rid of dirt and allergens from difficult-to-clean places, such as crevices of upholstered furniture, carpets, and even your mattress, shell out another AED3,450 on average each year. Furthermore, if you want your cars to be cleaned and handed back to you in their original, gleaming glory, getting two cars washed on a weekly basis costs AED 2,000 per year on average.
6. Gardening
Budget AED 3,000 – AED 8,000 per year
If you're yearning for a green haven in the middle of the desert, that is, of course, going to come at a cost. One-off charges for planting grass, trees, and flowers, and setting up your irrigation system are going to cost roughly AED 5,000. After your grass, flowers, trees, and irrigation system are in place, you will have to accommodate at least AED 3,000 – AED 8000 in your budget yearly for annual garden maintenance. This is because it will cost you AED 200 – AED 600 a month to take care of your garden.
7. Swimming Pool Maintenance
Budget AED 4,000 – AED 6,000 per year
The year-round hot and humid climate of Dubai makes swimming pools a standard feature of most villas since they provide some relief from the heat. If you're one of the lucky ones who enjoy the luxury of having a swimming pool in their backyard, expect to pay around AED 349 – AED 499 per month which amounts to AED 4,000 – AED 6,000 per year on cleaning, chemicals, pump maintenance, and backwashing.
8. Utilities and Housing Fees
Budget AED 20,000 – AED 30,000 per year
Whether you own or rent a home in Dubai, you can't escape utility bills as running water, electricity and a telephone connection are the basic necessities of every household. On average, you'll be paying around AED 30,000 annually to DEWA, which includes both housing fees and utilities. For telecom services, such as Internet and TV, add AED 3,000 – AED 5,000 to your budget.
Home and Car Insurance:
1. Property, Home, and Contents Insurance
Budget AED 1,500 – AED 3,500 per year
If you own your home, you should protect your property from potential damage as a result of accidents and natural disasters, such as fires, storms, and floods. Property insurance will cost approximately AED 1,500 – AED 2,000 per year, assuming that the value of the standard three-bedroom villa is AED 3.5 million.
For tenants, home contents insurance provides coverage to all objects inside the home, such as jewelry, antiques, and furniture, from potential damage due to theft, flooding, and vandalism. Assuming that you insure goods worth AED 200,000, you will have to pay approximately AED 1,000 for home contents insurance on average per year.  If you want to get coverage outside the house then consider opting for personal possessions insurance.
2. Car Insurance
Budget AED 1,500 – AED 4,000 per car
Whether you own a new car or a used car, you will be required to obtain car insurance in order to have it registered, which will cost you 2% – 4% of the value of your car. You can expect to pay between AED 3,000 and AED 4,000 if the cost of your car is AED 70,000.
Conclusion
Adding up the total costs of home maintenance shows that the owner of a standard 3-BR villa in Dubai can spend an average of AED 70,000 – AED 100,000 each year on home maintenance and upkeep. Usually, for these tasks, they like to hire a handyman in Dubai.
Potential homeowners should keep this in mind when searching for the house of their dreams, and current homeowners can use these figures to help map out a better budget for themselves – one that they're actually going to stick to in order to ensure that the house remains in good working condition.
If you're planning home maintenance but having trouble finding the right professional in your area, ServiceMarket can help you get in touch with the best handyman in Dubai depending on your location and budget.