When considering shifting from an apartment to a villa, many people just think about the increase in their monthly rent or mortgage payment. Many get overwhelmed at the idea of moving in Dubai. No doubt there are many additional costs attached with living in a villa. These can include general upkeep and maintenance costs that you need to take into account. So, to make it easy for you, the experts at ServiceMarket, the UAE's leading marketplace for home services, have come up with this handy cost guide.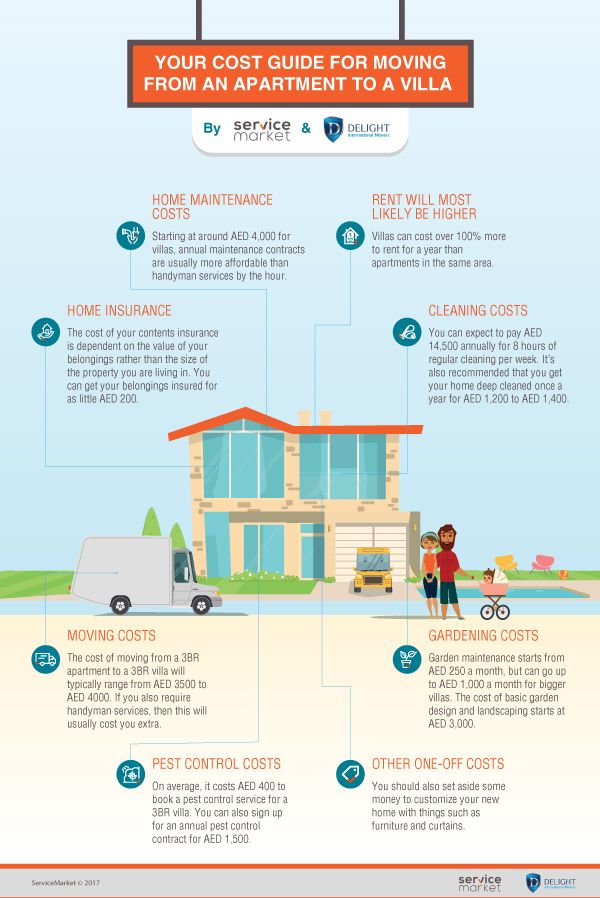 Monthly Average Costs: Moving in Dubai from an Apartment to a Villa
You might have to pay more than just movers and packers if you are shifting to a villa. The maintenance and utility costs alone can pile up more than you had expected. Here are some extra costs that you should budget for:
1. Monthly rent:
Since villas are almost always more expensive than apartments in the same area, you are likely to see a significant increase in your monthly rent. For example, let's make a quick comparison of average rent prices using the RERA Index. It shows that villas can cost over 100% more to rent than apartments in the same area. The difference in the average prices of renting an apartment or a villa can differ by area. Moreover, it is possible to find villas in some areas that are cheaper to rent than apartments in more expensive areas of Dubai.
Area
3BR Apartment
3BR Villa

The Views/ The Lakes

175,000 to 210,000

200,000 to 260,000

Jumeirah Village

100,000 to 125,000

130,000 to 150,000

The Gardens

75,000 to 90,000

155,000 to 180,000

Palm Jumeirah

225,000 to 280,000

320,000 to 400,000

Source:

https://www.dubailand.gov.ae/English/Pages/Rental-Increase-calculator.aspx
2. Utility bills:
Another significant cost you should consider is your utility bills. People can typically have higher utility bills when they move to a villa. This is because they have more space, more rooms, and a garden to care for. However, there are some energy-saving tips you can implement to control your monthly bills. Simple things like turning extra lights off, restricting AC use, and taking shorter showers, can save you a lot of money each month.
Another expense that many people often overlook is the amount of water used every month for watering a villa's garden. Of course, that depends on the size of the garden and the types of plants you have. However, watering it at night to reduce evaporation could help lower the water bill. You could also consider adding a paved patio, or using artificial grass, to cut such costs. Just make sure you have permission to do so from your landlord beforehand.
3. Home maintenance costs:
The annual maintenance contracts for villas can start at around AED 4,000. But it's worth it. Most annual maintenance contracts can also include additional services. For example, AC cleaning or locksmith services. As a result, you can save more money in the long run. But it is also important to note that the annual contract costs can depend upon the size of your villa. So, the bigger your villa, the more it will cost.
However, as compared to hiring a handyman by the hour, this is still affordable. Because in the absence of an annual contract, you would need to hire handyman for every small thing. From changing light bulbs to fixing leaky faucets, you'll probably need to bring one in every month. And that would add to your monthly costs.
4. Gardening costs:
A nice big garden is one of the most common reasons why many people planning of moving in Dubai prefer villas over apartments. But it can also cost you extra bucks. For instance, you're planning on customizing your garden through landscaping, installing lights, or building a patio. So, you will have to set aside money for that too.
Additionally, unless you're a gardening enthusiast, you will likely have to hire a gardener in Dubai. On average, basic garden maintenance can start from AED 250 a month. The same can also go up to AED 1000 a month for bigger villas. The cost of basic garden design and landscaping starts at AED 3,000. Add a pool to this and it can be as high as AED 50,000. If you plan to get a villa with a swimming pool or build one, then you should also include approx. AED 3,600 as its annual maintenance cost.
5. Pest control costs:
All villas need regular pest control treatment, and your budget for it will increase with the size of your property. If you have a garden in your villa, then you should consider pest control treatment for ants and termites. Did you know that in some scary cases Dubai residents even had to call pest control services to handle snakes? You probably don't want that to happen to you.
Moreover, bigger homes also mean more storage space which can be infested by rats and cockroaches. It can usually cost around AED 400 to book a pest control service for a 3BR villa. The good news is that all pest control bookings made on ServiceMarket come with a three-month warranty. You can also sign up for an annual pest control contract for approx. AED 1500.
6. Cleaning costs:
The larger your property, the more time it will take to clean. For this reason, your monthly cleaning services cost will probably be higher when you move to a villa. On top of that, you'll also have to face new types of cleaning costs that you didn't have in an apartment. For example, you'll have to get your water tank cleaned at least once a year for around AED 500.
Moreover, more AC units mean a higher cost to get them cleaned and serviced. It costs about AED 800 to get an AC unit cleaned and you should consider doing so every 6 months. So, if you have four AC units in your 3BR villa, the annual cost will be AED 6,400. Moreover, if there's a pool, you will also have to get that cleaned regularly.
7. Home insurance:
The cost of your home contents insurance is unlikely to increase by moving from an apartment to a villa. The cost of home contents insurance is dependent on the value of your belongings like furniture, electronics, or other insurable belongings. So, if their value stays the same, so will your home insurance cost.
If you already have home insurance, just inform the insurance company of your new address. If not, you should consider protecting your belongings. Remember, you can get home insurance for as little as AED 200 on ServiceMarket. However, the cost of building insurance is typically more expensive if you are planning to buy a villa.
8. Moving Costs:
One of the first expenses you'll have to meet is for moving services. By choosing reputable and experienced movers and packers in Dubai, you can make the experience more comfortable for your family. The size of your property and your belongings are the two most important factors for calculating your moving cost. But you can expect to pay between AED 3500 to AED 4000 if you are moving from a 3BR apartment to a 3BR villa.
Moreover, you should talk to your movers in detail about what services they are providing at what cost. For instance, you might need a handyman to help put up curtains or wall hangings. In that case, you can expect to pay an approximate amount on AED 250 for three to four hours. So, if you want additional help, make sure you include it in your initial quote when hiring movers in Dubai.
9. Other one off costs:
You should also budget for new things such as furniture and curtains you'll have to buy for the bigger space. Other one-off costs can include paying 1% to the real estate agent who helped you find the villa. And the costs associated with customizing your home such as painting services.
Conclusion
So, moving in Dubai from an apartment to a villa may not be the piece of cake you expected. However, you can avoid all that stress, and save a lot of time by booking a wide variety of home services on ServiceMarket.
ServiceMarket provides quotes and online bookings for more than 25 home services in Dubai, Abu Dhabi, and the rest of the UAE through an extensive network of more than 300 partners. Moreover, only vetted, and licensed companies are featured, and you can easily compare ratings and read reviews to make an informed decision.